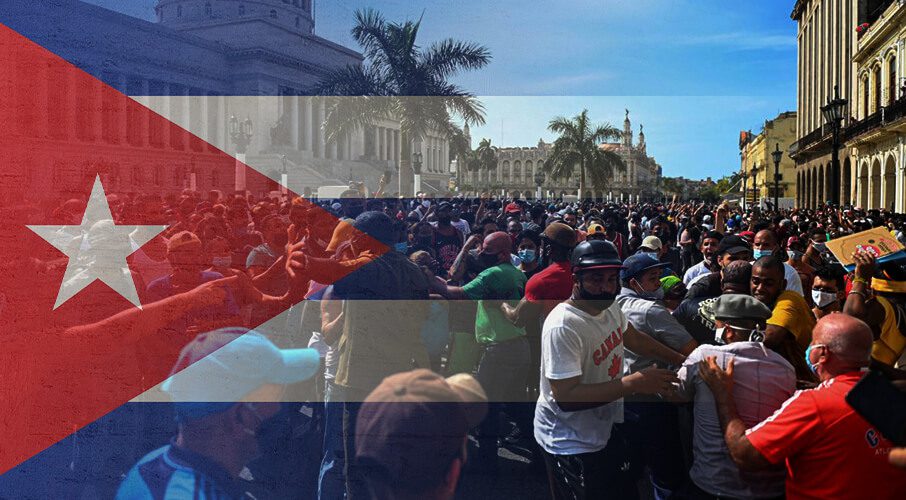 The continuation of the Canada-Cuba partnership will only mean more instability and repression throughout the Americas, writes Avik Jain.
By Avik Jain, December 17, 2021
Despite warnings about non-essential travel from the federal government, Canadians have begun to return to Cuba. This is positive news for the regime in Havana.
With the loss of crucial foreign dollars since the start of the pandemic, Cuba's fragile planned economy is in decline. Shortages have led to mass protests demanding democracy and economic reform. Many demonstrations have been held by the Cuban diaspora on Canadian soil, and some Canadian citizens have even been imprisoned on the island by its feared security forces.
Some 1.2 million Canadians visited Cuba annually pre-COVID – more than 40 percent of all of Cuba's yearly visitors. This number represented over a billion dollars in earnings for the Cuban state, received in highly desirable Canadian and American currencies.
Most Canadian visitors stay in resorts, while some book rooms at small hotels in Old Havana. Hotels in Cuba are either fully owned or operated by the Cuban state, or run as joint ventures with foreign companies. No hotel is permitted to be fully foreign-owned, and wages are less than 10 percent of what they are in Mexican or Dominican resorts. Cubans employed in the tourism sector are lucky to take home $40 a month.
The Armed Forces Business Enterprises Group – commonly known as GAESA – is the military-led conglomerate involved in every sector of the Cuban economy that takes in foreign exchange. GAESA reaps almost all earnings from Cuba's tourism industry, which is largely sustained by Canadians and other visitors to the island. GAESA also controls many agricultural and resource extraction industries that sell to Canada, Cuba's third-largest export market.
While the Cuban government refuses to disclose its poverty index, economists estimate that up to 51 percent of Cubans live in poverty. Infrastructure is in a dire state; almost all households experience lengthy, daily losses of electricity and water. In a population of more than 11 million, there are less than 173,000 cars. To procure everything from diapers to Internet access, the average Cuban is subjected to draconian shortages and restrictions.
Despite the critical humanitarian situation on the island, the Cuban regime, in power since 1959, is unconcerned with improving citizens' standard of living. Rather, the Communist Party aims to placate basic needs to avoid unrest, while dedicating itself to grander geopolitical projects. Most notable is that of Venezuela.
Since Hugo Chávez's electoral victory in 1998, the deterioration of Venezuelan democracy has been intertwined with the aspirations of the Cuban regime. Chávez, who was mentored by Fidel Castro, began providing hefty petroleum subsidies to energy-starved Cuba, in exchange for support in the realms of political indoctrination, security, and health care. Following the death of both men, the partnership has been continued by Nicolás Maduro, Chávez's successor, and Cuba's new rulers, Raúl Castro and Miguel Díaz-Canel, with devastating results.
For the past 22 years, there have been around 40,000 Cuban soldiers and technical personnel stationed in Venezuela at any given time. Initially, doctors, nurses and teachers were brought in to sustain Chavista social programs, which bolstered the Socialist Party's popularity among the poor. Gradually though, Cuba's leaders began to administer Venezuela's economy and security state, surveilling top officials, rewriting educational curriculums, expropriating key industries, and restructuring the military. Venezuela's elite SEBIN agents receive training in Havana, allowing them to efficiently commit human rights abuses against Venezuelan civilians. Nicaraguan dictator Daniel Ortega has also arranged for his security agents to receive similar Cuban supervision and training.
The Canadian government is fully aware of Cuba's aggressive foreign policy. Under both Liberal and Conservative governments, Canada has been a strong critic of many violent regimes in Latin America. Most notably, Ottawa has levied sanctions on individual members of the authoritarian Venezuelan and Nicaraguan governments, in addition to receiving exiles and supporting democratic opposition. With over six million Venezuelan economic and political refugees trying to survive across Latin America – a refugee population that will soon surpass Palestinians and Syrians globally – the Liberal government clearly recognizes that Venezuela's repression and economic collapse have destabilized Canada's democratic allies in Central and South America.
Some of the host nations most overwhelmed by migrants include Colombia, Chile, Peru, Panama, Argentina, and Brazil. These developing countries cannot provide adequate social safety nets for new arrivals; most Venezuelans are forced to seek informal employment and housing, with many subjected to labor and sexual exploitation. Many Venezuelan children are unable to attend school, since they do not possess proper immigration status. Rising xenophobia and the economic fallout of the pandemic have exacerbated this extremely precarious situation: in the streets of every major Latin American city, thousands of Venezuelan families can be found living outdoors.
Since 2017, Canada has taken a leading role in the multilateral Lima Group, set up to provide aid to Venezuela refugees and find a diplomatic solution to the crisis. But Canadian tourism and trade dollars have continued to flow to Cuba, which plays an integral role in propping up the regime in Caracas.
Canada has not only given Havana a pass when it comes to its role in orchestrating the largest humanitarian crisis in the Americas. The Communist Party of Cuba provides aid to various authoritarian parties across the world that directly threaten Canadian interests. For instance, Cuba's regime educated and financed Dr. Vladimir Cerrón, the leader of Peru's new ruling Marxist party and a staunch opponent of substantial Canadian mining projects in the Andean country. Across the pond, millions of dollars have allegedly been illegally transferred from Havana to populist political parties in Europe, including Spain's Podemos, a party that wants to rip up free trade agreements between the European Union and countries like Canada.
The aforementioned examples, while problematic, are minimal when compared to what else is at play in the Caribbean. Chinese companies like Huawei, ZTE, and TP-Link provide the telecommunications and surveillance infrastructure for Cuba, much of which is being utilized to suppress unfiltered content of democratic protests. Cuba also acts as a base for China to gather intelligence and conduct cyberattacks against Canada and the United States. Other Canadian adversaries, like Iran and Hezbollah, are also taking advantage of good relations with the island, using its ports and planes to pump military-grade weapons into the hands of Latin American dictators and terrorist groups.
Cuba's oldest ally, Russia, is pouring aid and credit into Cuba. The Kremlin is fearful that the collapse of their principal Latin American ally will impede its ability to exert influence on Venezuela and other Cuban-backed groups in the hemisphere. Meanwhile, Canada continues to spend hundreds of millions of dollars supporting Venezuela refugees, and, by way of tourists, is readying to help renew the cashflow to the regime in Havana that China, Iran and Russia are so desperate to preserve. This effectively undermines the United States, Latin American democracies, Canadian commercial interests in those democracies, and any efforts to ease the suffering of refugees and repressed citizens across the hemisphere.
Aside from helping its citizens achieve affordable sunny vacations, it is difficult to determine what precisely Canada's government gains from the close relationship with Havana. Even Canadian diplomats have struggled to understand why Cuba merits special treatment: in April, a group of them accused Ottawa of withholding reports of brain injuries among Canadians stationed in Cuba, which may have resulted from untraceable electronic attacks.
Cuba has always been a blind spot in Canada's foreign policy. There is no logic or consistency behind steadfast support for a regime that, in addition to bolstering Canada's geopolitical opponents, has incubated the regional catastrophe that is Venezuela. Canadian-provided foreign currency enriches Cuba's ruling class, while the international use of these funds often directly finances illegal activity that jeopardizes the safety of the entire Western Hemisphere.
For decades, Canadian tourism has had damning consequences for the Cuban people, as well as for millions of Latin Americans. It has also been a boon for the regimes that are condemned, year after year, in the House of Commons. The resumption of Canadian vacation flights will solidify the position of the Communist Party of Cuba, and poses a real threat to pro-democracy protests taking place on the island. It is clear the continuation of the Canada-Cuba partnership will only mean more instability and repression throughout the Americas. This is a high price for leisure, one that will continue to be paid in the coming years.
Avik Jain holds a BA in History from McGill and an MA in Latin American Studies from Boston University. His columns have been printed in The Toronto Star, The Ottawa Citizen, The Montreal Gazette, and other newspapers. He has taught in schools and prisons in Lima, Callao, Panama City, Framingham, and Montreal.