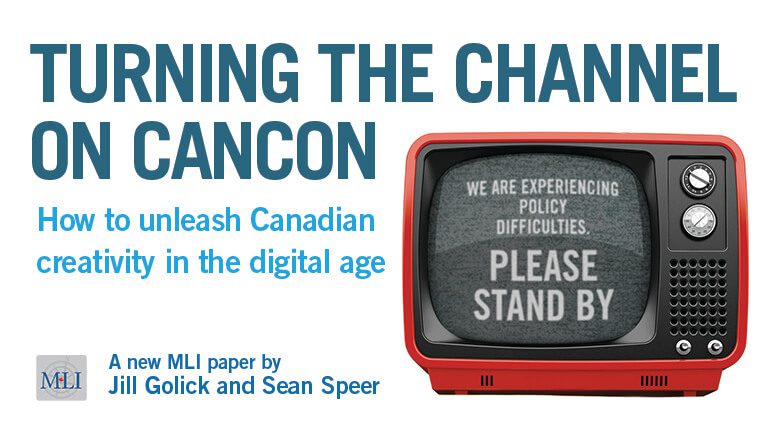 OTTAWA, ON (September 26, 2019): The advent of the digital age has radically changed the way Canadians create and consume cultural content. One need only to look at the 2019 Emmy Award Ceremony, in which very few of the series nominated for major awards were made by conventional networks.
However, despite the radical changes in economic and technological forces, Canada's broadcasting and cultural policy frameworks remain stuck in the 1960s. What should policy-makers do to update this antiquated system?
In a new Macdonald-Laurier Institute paper titled Turning the Channel on CanCon: How to Unleash Canadian Creativity in the Digital Age, critically-acclaimed TV writer-producer Jill Golick and MLI Munk Senior Fellow Sean Speer put forward a new vision for Canada's policies and regulations regarding the cultural industry.
The authors show that the origins of the current policy framework arise from the  "grand bargain" between the government and major Canadian broadcasters. In exchange for protections from foreign competition, broadcasters are effectively responsible for generating, promoting, and disseminating Canadian content.
Broadcasters are exclusively provided with funding through the Canada Media Fund (CMF) in order to develop Canadian content, meaning that producers and creators must partner with broadcasters in order to access those funds.
Over time, cable television and eventually streaming services emerged, challenging traditional broadcasters. Golick and Speer cite the creation of streaming-service original shows such as Netflix's House of Cards as another point of radical departure, in which creative content was now becoming produced without ever relying on broadcasters.
Yet, despite these industry changes, Golick and Speer write that "Canada's public policy framework is still rooted in an inward-looking model that is principally concerned with protecting Canadian broadcasters and subsidizing Canadian content for domestic consumption."
Because of this outdated, domestic-facing policy framework, the paper makes the case that Canadian creators and producers are falling behind in the new, dynamic global marketplace. Rather than promoting Canadian content, the current model effectively serves to limit high-quality Canadian-created or produced movies, shows, and other products.
Thus, Golick and Speer argue that policy-makers ought to act ambitiously when it comes to updating the cultural policy framework for the digital age. This would require leveraging the new and evolving digital revolution to cultivate a dynamic and ultimately self-sufficient cultural industry.
Instead of a broadcaster-driven system designed to protect Canadian culture, Golick and Speer recommend a creator-driven system that is able to support and cultivate Canadian content for a global audience.
To achieve this, the CMF model would need to be revised. Some specific recommendations include:
Redesigning the CMF to allow creators and producers to access funding independent of broadcasters;
Reshaping acquisition rules for publicly-funded content to allow steaming services and other emerging media to work with creators and producers to acquire content;
Removing broadcaster contributions to the CMF and offsetting them with public contributions, thereby making the CMF fully public in nature, with a goal of eliminating the subsidy as the industry becomes self-sufficient.
"We believe that with the right policy framework, Canada could strengthen its position as a global leader in cultural products – including television, film, and other screen-based products," write Golick and Speer.
"It is high time for policy-makers to become more ambitious. Our creators and producers are ready for it. The rest of us should be too."
To learn more about Canada's cultural policy framework and why it's time for an update, check out the full paper here.
***
Jill Golick is a television writer-producer who has received critical acclaim and awards for her creative work. She teaches about TV series creation in the era of Netflix and mentors screenwriters at every career stage.
Sean Speer is a Munk senior fellow at the Macdonald-Laurier Institute. He previously served in different roles for the federal government including as senior economic advisor to the Prime Minister and director of policy to the Minister of Finance.
To arrange an interview, media are invited to contact:
Brett Byers-Lane
Communications and Digital Media Manager
613-482-8327 x105
brett.byers-lane@macdonaldlaurier.ca