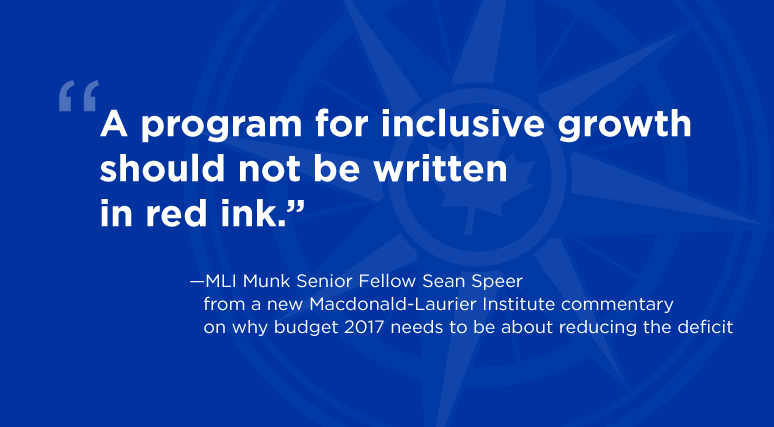 MLI Munk Senior Fellow Sean Speer offers a plan for how budget 2017 can get Ottawa back on the path to balance and achieve goals for "inclusive growth"
OTTAWA, Feb. 2, 2017 – The federal government needs to get its fiscal house in order – starting with the 2017 budget.
Macdonald-Laurier Institute Munk Senior Fellow Sean Speer, in a new commentary, lays out a plan for how the government can achieve its plans for inclusive growth starting with the upcoming budget.
This means following through on its promise to balance the budget.
"Just because the federal government's public finances are relatively strong does not mean that more spending and ongoing deficits are the right plan for Canada", writes Speer.
"A program for inclusive growth should not be written in red ink".
To read the full commentary, titled "Sketching Out a Plan for Inclusive Growth: The Case for Less Red Ink", click here.
The government has already rung up a nearly $30-billion deficit, and plans to reduce it are understating how difficult it will be to control spending and ultimately balance the budget.
A major concern is that only a small portion of the government's new spending has been devoted to infrastructure investments – its stated reason for moving into deficit in the first place.
"Ottawa's deficit is primarily the result of discretionary spending and has little to do with infrastructure investments", writes Speer.
The government needs a plan to get back into the black – and fast.
Speer recommends the government introduce an alternative to the balanced budget legislation it repealed once it took office. This would put the onus on the government to impose the taxes it needs for the services it provides and guide its return to a balanced budget.
The focus should be on modernizing the government's operations – and reducing spending in the process. Canada Post, Health Canada, business subsidies and federal employee sick-leave benefits are specific areas in need of reform.
There are also lots of opportunities to adopt a "pro-opportunity agenda" that brings Ottawa closer to its goal of "inclusive growth".
Affordable and responsible homeownership: Ottawa should use its spending programs to spur provinces and municipalities to stop obstructing the housing supply that is pushing homeownership out of the realm of affordability for the middle class.
Making work pay: Ottawa should expand the Working Income Tax Benefit, which is designed to help the working poor find, maintain and expand employment without facing a decline in their public benefits and in turn their living standards.
Fairer access to private health insurance: The current tax treatment of employer-provided health and dental benefits excludes those Canadians who have to purchase supplemental insurance on their own with after-tax dollars. It's time for the government to establish a refundable tax credit that defrays the cost of buying private insurance irrespective of where one works.
***
Sean Speer is a Munk Senior Fellow at the Macdonald-Laurier Institute. He previously served in different roles for the federal government including as senior economic adviser to the Prime Minister and director of policy to the Minister of Finance.
The Macdonald-Laurier Institute is the only non-partisan, independent national public policy think tank in Ottawa focusing on the full range of issues that fall under the jurisdiction of the federal government.
For more information, please contact Mark Brownlee, communications manager, at 613-482-8327 x105 or email at mark.brownlee@macdonaldlaurier.ca.