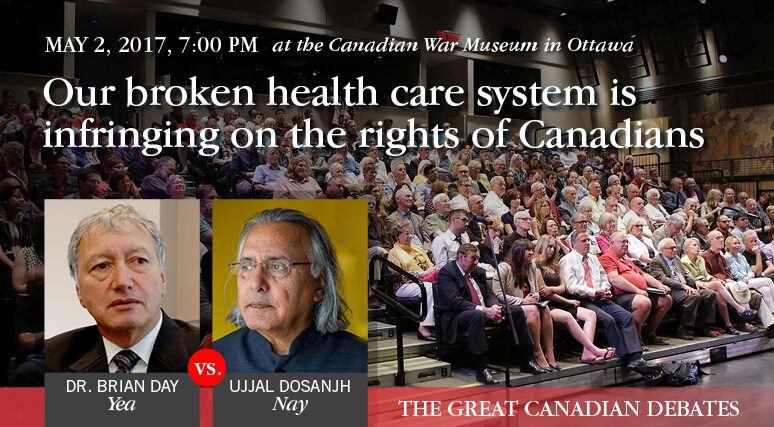 Latest entry in the Macdonald-Laurier Institute's series of Great Canadian Debates takes place on May 2 at the Canadian War Museum in Ottawa
OTTAWA, April 27, 2017 – A man who's fighting against Canada's publicly-funded health care system will square off against a former politician who helped defend it in the latest Great Canadian Debate on May 2, 2017.
Dr. Brian Day, an orthopaedic surgeon whose court case is challenging Canada's single-payer health care model, will argue in favour of the motion: "Our broken health care system is infringing the rights of Canadians". Ujjal Dosanjh, a former British Columbia premier and federal minister of health, will argue against.
The debate will take place at the Canadian War Museum in Ottawa.
Canadians have long taken great pride in medicare. But with rising costs, long wait lists and middling outcomes, some say the system is failing them. It has been argued in court and in public that denying timely treatment violates our Charter rights. Others will tell you the system works well, the alternatives are worse, and the principle of universal public coverage is vital for equality. Who is right? Is our broken heath care system violating the rights of Canadians?
When: May 2, 2017

Where: Barney Danson Theatre, Canadian War Museum, 1 Vimy Pl., Ottawa, ON

Who: Brian Day and Ujjal Dosanjh
If you are a reporter interested in covering the debate, please contact Mark Brownlee at mark.brownlee@macdonaldlaurier.ca or 613-482-8327 x105.
To purchase a ticket, click here.
***
Brian Day is a British Columbia-based orthopedic surgeon. He is founder and president of Cambie Surgeries Corporation, which over 20 years ago opened the first private hospital of its type in Canada. In 2009, together with 6 patient plaintiffs, 2 of whom have died while awaiting the trial date, Cambie mounted a constitutional challenge against prohibitions on patients' access to care. He is a former president of the Canadian Medical Association.
Ujjal Dosanjh is one of Canada's most successful politicians, serving as Premier of British Columbia, and more recently, as a member of Parliament and Health Minister in the Martin government, where he worked to prevent the provinces from privatizing the public health care system.