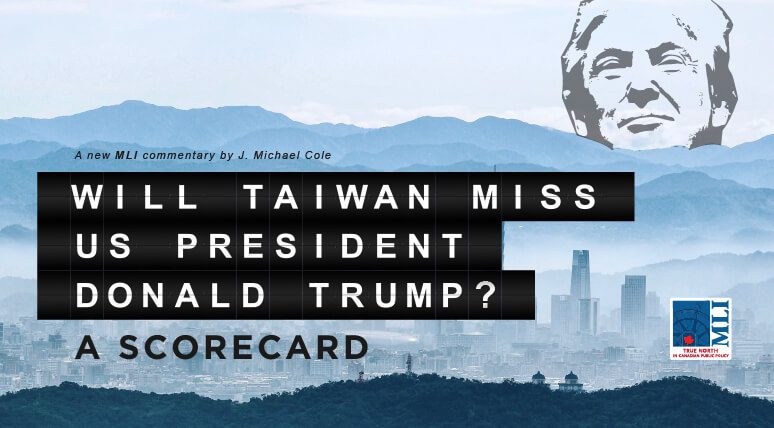 OTTAWA, ON (January 19, 2021): With the US presidency about the change hands, many around the world wonder what changes the incoming Biden administration will bring to US foreign policy. Of particular concern is what this change might mean for the future of Taiwan.
In the Macdonald-Laurier Institute's latest commentary titled "Will Taiwan miss US President Donald Trump? A scorecard," MLI senior fellow J. Michael Cole delves into Trump's record on Taiwan and what the future holds for the US-Taiwan relationship.
In the commentary, Cole examines how, despite broader problems and failures, the Trump administration crafted a policy toward Taiwan that better reflected the extent to which the US and Taiwan are natural allies.
"Trump's non-traditional approach to policy-making, and the correction course that his administration engineered when it comes to America's relationship with China, made possible a policy vis-à-vis Taiwan that was more appropriate to the times," explains Cole.
In both a qualitative and quantitative sense, the US-Taiwan relationship was brought to "an unprecedented level of complementarity" under the Trump administration. Trump's assertiveness towards China and general unorthodoxy catalyzed and sped up the trend toward a smarter US policy toward Taiwan.
However, in the absence of Trump in the Oval Office, some of his supporters in Taiwan and elsewhere fear that the island nation's survival is at stake. Yet these fears are overstated. As Cole writes, this view "ignores trends within American society, government institutions, academia and the media, which already favoured Taiwan."
"Therefore, the consolidation of a bipartisan consensus with regards to Taiwan's value and the necessity of challenging a resurgent China would have occurred with or without Trump, although that process would probably been slower, and somewhat less overt, under a different president."
Moreover, despite improving US-Taiwan relations, the island nation remains in a precarious position with its very survival threatened by China. President Trump's unilateral hardline against Beijing failed to deter China meaningfully from its threats against Taiwan, oppression in Xinjiang, and crackdown in Hong Kong.
Cole also notes that the administration's solid policy program toward Taiwan came at a wildly unnecessary price. The Trump presidency brought with it political upheaval, polarization, and a general degradation of the US civic system. His governance, according to Cole, can accurately be described as chaotic.
On a global stage, Trump undermined the international world order and eroded important, longstanding alliances. This combination of domestic chaos and foreign failures emboldened illiberal states like China and created greater danger internationally.
Moving forward, Cole argues that the Biden administration has an opportunity to build upon the already-solid approach to Taiwan while also engaging in more effective cooperation with other like-minded allies.
"In the long-run, the Biden administration is much more likely to repair and reinvigorate a liberal international system that is hospitable to, and essential for the survival of, a threatened democracy like Taiwan," concludes Cole. "In fact, incorporating Taiwan into a modernized international liberal order… is an indispensable complement to the more frequent bilateral engagement that has marked US-Taiwan relations under Trump."
To learn more about the Trump administration's policy toward Taiwan, and the opportunities that exist for the Biden administration, read the full commentary here.
***
J. Michael Cole is a Taipei-based senior fellow with the Macdonald-Laurier Institute, the Global Taiwan Institute in Washington, D.C., and the Taiwan Studies Programme at the University of Nottingham, UK.
For more information, media are invited to contact:
Brett Byers
Communications and Digital Media Manager
613-482-8327 x105
brett.byers@macdonaldlaurier.ca