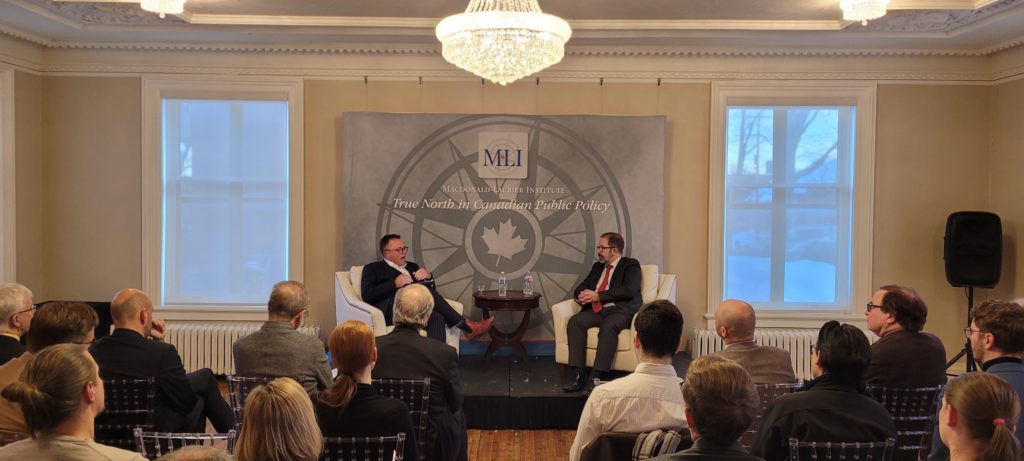 OTTAWA, ON (February 2, 2023): On January 31st, the Macdonald-Laurier Institute was honoured to host an armchair discussion between MLI Senior Fellow Marcus Kolga and Keir Giles, Senior Consulting Fellow with Chatham House's Russia programme, covering the key themes of Giles' new book, titled Russia's War on Everybody: And What it Means for You.
The book is based on interviews with 40 people across a dozen countries, revealing how Russia reaches into western democratic societies and targets individuals who stand in the way of Russian subversion. The Kremlin uses a variety of tools – from online harassment to lawsuits, smear campaigns, and assassinations.
Over the course of the event, Giles explained how and why Russia pushes for more power and influence, with goals extending far beyond Ukraine – and how the Kremlin's imperialist mindset represents a threat for the entirety of Europe. While some may not be interested in Russia, as Giles notes, "Russia is interested in you."
The discussion also covered Western Europe's failure to anticipate Putin's objectives in Ukraine, in contrast to the preparedness of countries like Poland, Finland, and the Baltic states, which have been sounding the alarm bell for years. The physical distance separating Russia from the rest of Western Europe has also helped to create a false sense of security among Western European leaders, despite Russian subversion attempts exposing how Russia's war in Ukraine is not just a distant afterthought, but is also present at home.
According to Giles, Canada and other like-minded countries can only face up against Russia by demonstrating conviction, moral clarity, and leadership. A reluctance to do so would only be seen as a sign of weakness by Russia's political elites, who see international relations only through the paradigm of strength.