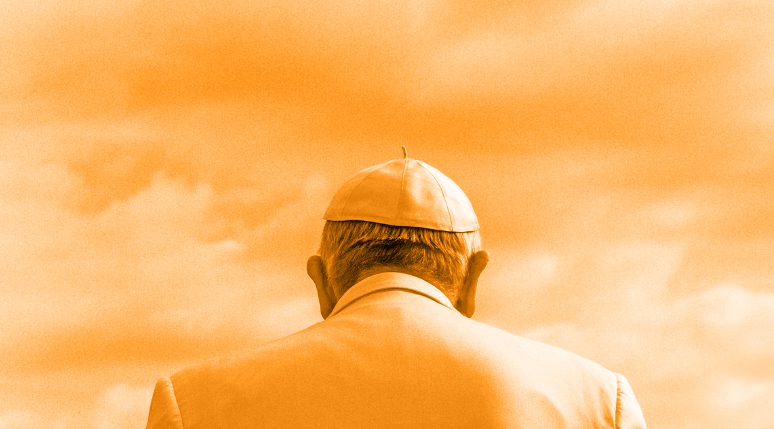 This article originally appeared in the Edmonton Journal.
By Ken Coates, August 6, 2022
As Pope Francis's Canadian visit morphs from headlines to history books, it is important to acknowledge what was achieved — and what opportunities were missed — from a historic encounter that was emotionally and politically supercharged.
Facing expectations nearly impossible to meet, Francis received mixed reviews despite drawing enthusiastic crowds. While there was great appreciation regarding his apology for the Catholic Church's role in residential schools, many were disappointed that he avoided addressing its complicity in the massively disruptive processes of colonialism and cultural domination
As varying critiques emerge about this important visit, it is important to identify its productive outcomes. A papal visit is a remarkable thing, and the country should be grateful for his visit. Francis is ailing and has cancelled other overseas trips; having him make this journey was impressive, as he kept his promise made to Indigenous delegates at the Vatican earlier this year.
Francis's heartfelt apology for the human devastation wrought by residential schools made it clear he had heard from Indigenous people. He spoke to the pain of students, their mistreatment and the multi-generational traumas of the residential school experience. He listened, learned, then apologized with sincerity and commitment. While it is far from enough, and too soon to know if the broader Church will heed the Pope's call to action, this was a vital, albeit overdue, start.
The visit focused on Indigenous communities and involved meetings with elders, Indigenous leaders and people. Perhaps most significant — and this has been largely missed in the national conversation — is that the Pope was meeting with Catholics, including Indigenous Catholics. This was a pastoral visit between the Church's leader and its members, and must be seen in that light. To Catholics, an opportunity to pray with the Pope is of immense spiritual and personal significance.
The visit attracted considerable criticism. Many people wanted specific acts of contrition and compensation; they wanted the Pope to commit to meeting the Church's promise of financial recompense for damage done to students and their families. Some hoped the Church would sell off some of the valuable properties to compensate former students. Others want the Church's records opened for scrutiny and research into malfeasance. Still others wanted the Pope to visit more parts of Canada to apologize in person to other Indigenous communities.
But perhaps most disappointed are those who want the Pope to acknowledge and apologize for the Catholic Church's role in supporting European domination of large parts of the world. Indigenous commentators wanted — with good reason — to have the Pope publicly reject the "Doctrine of Discovery" which bestowed intellectual and religious validity on centuries of European conquest and colonization. Such a monumental statement would clearly acknowledge the Church's complicity in legitimizing Europe's expansionary aspirations and actions.
Other Indigenous interpretative priorities — such as admitting that the Church supported colonization, defended the occupation of Indigenous lands, and attacked Indigenous cultures and traditions — have long been accepted by academics and widely taught in schools, colleges, and universities. But concepts like the Doctrine of Discovery, only now becoming widely known, have not yet penetrated the nation's consciousness.
For centuries, Christian churches used the Scriptures to justify territorial conquest, cultural domination, and social and economic impoverishment. The Catholic Church was a handmaiden of the state and European commerce; Christianity provided cover for European expansion and the destruction of Indigenous cultures.
The road to true reconciliation was never going to be easy. For many years, Indigenous people consistently told their horror stories while governments, churches and others insisted that initiatives like residential schools were constructive acts of kindness and generosity. Slowly and reluctantly, the nation accepted that the schools and other government and church policies had had devastating consequences, but it took decades for Canadians to broadly accept the indefensible abuse that Indigenous children suffered.
Pope Francis came to Canada to tell Indigenous peoples that he understood their pain. The sincerity of his apology is not in dispute, but he has only just started down a path that will lead — one hopes quickly — to comprehensive understanding of how Church doctrine was fundamental to colonial expansion.
No individual could deliver everything that Indigenous peoples wanted from the 2022 papal visit, but journeys start with first steps. Pope Francis took them prayerfully and with determination, his words received thoughtfully by Indigenous peoples across Canada. Let us hope the journey continues and all Canadians follow the lead of Indigenous peoples seeking justice and understanding.
Ken Coates is a distinguished fellow and director of the Indigenous Affairs Program at the Macdonald-Laurier Institute, and a Canada research chair at the University of Saskatchewan.