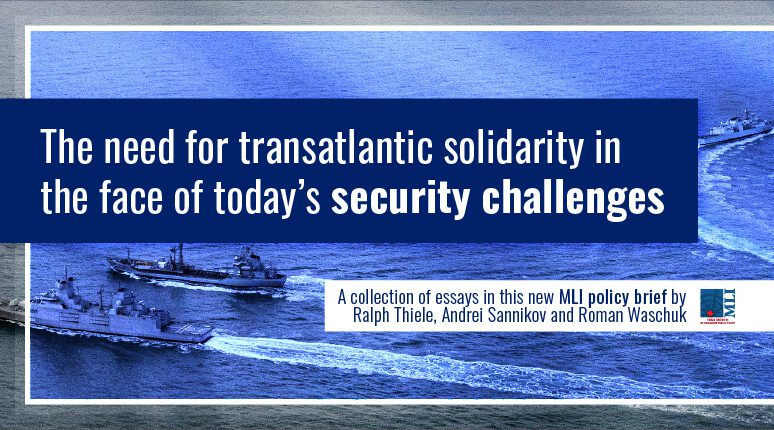 OTTAWA, ON (August 31, 2021): Adversaries of the West, particularly Russia and increasingly China, are posing new threats and complex challenges to European and North American security. If the transatlantic community is to face these challenges, allies on both sides of the Atlantic must work more closely with each other.
This is the message of MLI's new policy brief titled "The need for transatlantic solidarity in the face of today's security challenges." This policy brief features essays written by Ralph Thiele, Andrei Sannikov, and Roman Waschuk that aim to make sense of the security challenges facing decision-makers.
In addition to traditional security threats, the authors emphasize the degree to which revisionist actors have adopted a toolkit that ranges from "now-familiar disinformation campaigns to cyber attacks, from political warfare to corruption, as they use economic leverage, energy dependence, and critical infrastructure vulnerabilities to coerce, bribe, or corrupt business and political elites."
The first essay, written by Thiele, warns that NATO lags in terms of its understanding of complex hybrid warfare challenges and the capabilities needed to address such threats. At particular risk are the alliance's members in Eastern Europe and the Baltics. As a result, NATO faces the serious risk that the alliance's solidarity could be compromised by actors such as Russia.
To revive the alliance, Thiele recommends developing greater situational awareness in cyberspace, the global media landscape, and other domains. Additionally, he argues that civil and military leaders should harden their decision-making processes in order to confront modern challenges; a good example being through serious wargaming exercises that make extensive use of new technologies and practices. Finally, countries must accelerate innovation efforts and embrace projects with disruptive potential.
In the second essay, Sannikov examines the ongoing repression by the Lukashenko regime in Belarus, and argues that the time is ripe for an internationally coordinated solution to the situation in the country.
"The West needs to apply strong coordinated sanctions, sectoral and personal, against Lukashenko and his Russian financial supporters," writes Sannikov. At the same time, efforts toward a negotiated solution must involve "Russia and international organizations." He goes on to describe a "window of opportunity" in Belarus, in which major players could potentially offer a solution for the political crisis precipitated by Lukashenko's spent regime.
In the final essay, Waschuk notes that, despite the fact that over half of Canada's international military deployments are in Eastern Europe and the Baltics, Ottawa has so far lagged in terms of taking a whole-of-government approach to the region. With so many commitments and interests at stake, Canada's diplomatic corps needs to "up our political game" to match our level of security commitment to the region.
As it stands, Canada punches well-above its weight in terms of its commitments to European security, though it is rarely acknowledged, celebrated, or leveraged. From the Baltics to the Black Sea, Canada is leading training missions in Ukraine, an enhanced Forward Presence Battlegroup in Latvia, air policing missions in Southeast Europe, and has contributed significantly to NATO Maritime missions as well.
However, according to Waschuk, "of the 196 vignettes about international engagement published on the Global Affairs Canada website over the past three years, not one portrays Canada's role as a transatlantic security actor. And yet we do have a compelling story to tell."
Waschuk makes the case that we should be telling these stories, and leveraging them more effectively with "Washington, Brussels, Paris, London and Berlin as a key card to play in pursuit of broader Canadian interests and values."
This collection of essays is the first in a series of products to be released under MLI's Transatlantic Program led by Senior Fellow Balkan Devlen. All three authors participated in MLI's 2021 strategic dialogue on transatlantic issues supported by the Konrad-Adenauer-Stiftung. Learn more about the program here.
To read the full collection of essays, click the button below.
***
Ralph Thiele, retired Colonel, is President of EuroDefense (Germany), Chairman of the Berlin-based Political-Military Society, and Managing Director of StratByrd Consulting. Andrei Sannikov is a Belarusian politician and activist, Deputy Foreign Minister (1995-1996), presidential candidate (2010), and political prisoner (2010-2012). Roman Waschuk is the former Canadian ambassador to Ukraine (2014-2019).
For more information, media are invited to contact:
Brett Byers
Communications and Digital Media Manager
613-482-8327 x105
brett.byers@macdonaldlaurier.ca