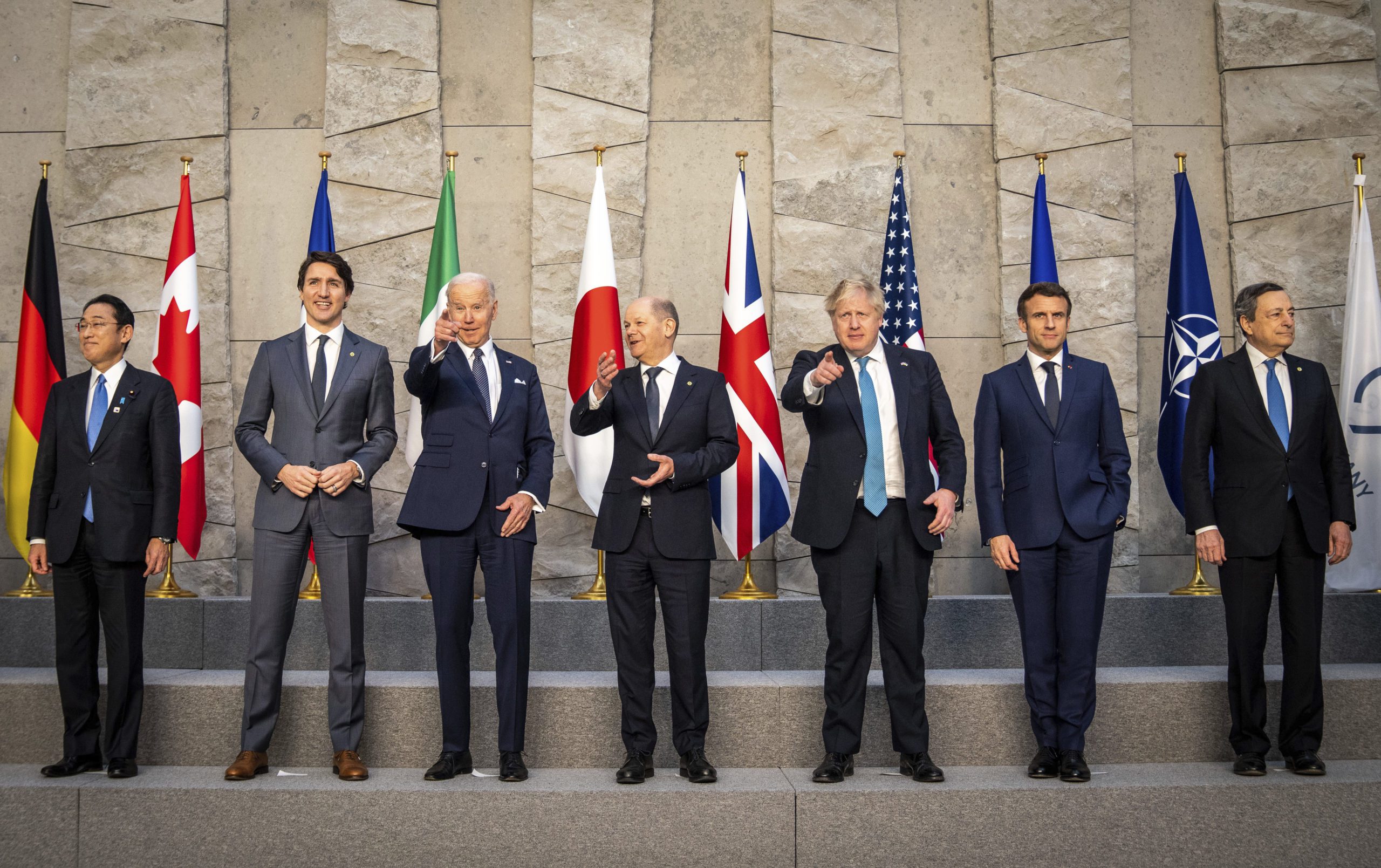 This article originally appeared in the Japan Times.
By Stephen Nagy, June 28, 2022
Japan, South Korea, New Zealand and Australia's participation in NATO's annual summit demonstrates that the four Asia-Pacific nations and bloc partners share a common worldview on collective defense against states that are interested in changing the current regional and international order by force.
The immediate concern is Russia as Vladimir Putin's war machine continues to materially dismantle Ukraine despite aid from a united West.
Pivoting to Japan's backyard, Russia's invasion of Ukraine through brute force raises serious concerns about what lessons Beijing will be learning from the invasion to achieve their long-standing desire to unify with Taiwan, push out the U.S. from the region and establish a China-led hegemonic order in the Indo-Pacific.
Prime Minister Fumio Kishida's participation in the summit shows that Japan sees its security best advanced by tying itself to international institutions, collective defense and supporting the national interests of states and associations or unions in other parts of the world.
This process of connecting the nation's national security to international institutions, practices and collective defense didn't start under Kishida — and it won't end with him. Former Prime Minister Shinzo Abe did much of the groundwork in embedding Japan into many international institutions and multilateral frameworks to ensure the country is wedded to international rules-based processes not only in the Indo-Pacific region, but in the EU, North America and elsewhere.
Abe did this by spearheading the Japan EU-Economic Partnership Agreement, the Japan-EU Infrastructure Connectivity Agreement and realizing the Comprehensive Progressive Trans-Pacific Partnership. He did this at the same time cooperating with China, South Korea and the "ASEAN Plus Six" countries to finalize the Regional
Comprehensive Economic Partnership.
On security, Japan has not put all its eggs in one basket. It has also invested in the Australian-Japan Reciprocal Access Agreement that was signed in December. Tokyo also signed an RAA with the U.K., which is part of Japan's multilayered effort to embed itself in a series of multilateral, bilateral and international institutions that contribute to defending its security, national borders and commitment to a rules-based order.
Participating in the NATO summit demonstrates that Tokyo looks at security beyond AUKUS, "the Quad" and the U.S.-Japan alliance. It sees security best achieved through securing and contributing to multilateral organizations and cooperation that focus on economic cooperation, diplomatic cooperation and self-defense cooperation. It is the exact opposite of those who have wrongly argued that Abe and the ruling Liberal Democratic Party were pursuing a nationalist agenda to remilitarize Japan.
Putin has been able to galvanize the EU, the U.S., Japan, South Korea, Australia and other states for a common purpose to defend against Russia's explicit invasion of Ukraine.
Russia has also brought the same groupings of countries together about the challenges associated with states (read China) that seek to change the regional order through force, lawfare, gray-zone operations and transforming definitions of human rights or democracy in international institutions such as the U.N. so authoritarian regimes are less accountable at home and abroad.
Japan and its like-minded friends have committed to ensuring that a similar blatant act of aggression does not occur in the Indo-Pacific region. Of primary concern is the Taiwan Strait, with China sending fighter jets into Taiwan's air defense identification zone, explicitly not rejecting the use of force to achieve its objectives and a growing surge of nationalism that sees unification with Taiwan as critical to achieving the China dream and preserving the power of the Communist Party.
Tokyo and its partners have growing concern of what a Taiwan contingency would mean for regional supply chains, trade stable and predictable sea lines of communication, as well as peace and stability within the region.
Showing up at the NATO summit is a start, but creating a common vision of how security should be achieved is not a short-term project.
Tokyo recognizes that regional conflicts such as Russia's invasion of Ukraine cannot be seen in isolation or delinked from Japan's concerns about the Korean Peninsula and weapons of mass destruction, the Taiwan issue and perhaps a conflict in the South China Sea.
The Kishida administration's participation in the NATO summit in Spain is an opportunity to convey to NATO members that the instability and potential for friction within the South China Sea, Taiwan Strait, the East China Sea and the Korean Peninsula will have global ramifications that will affect NATO members as well.
In essence what happens in the region does not stay in the region. On the contrary, what would happen in the Indo-Pacific region would have global economic and security challenges for the global community.
Springboarding upon Kishida's Shangri-La Dialogue speech in which he outlined a five-point plan to achieve an "Free and Open Indo-Pacific," Kishida has to continue to highlight how Japan's vision for the region is a vision that is consistent with and complementary to NATO's efforts to defend the EU and its partners from naked aggression.
Kishida needs to explicitly link his vision to NATO's founding principles and ensure that the vision is inclusive and includes other stakeholders interests, such as those in Southeast Asia, South Asia, as well as Taiwan, South Korea, Australia and elsewhere.
At the same time, Kishida needs to be sensitive to how Eastern and Central European countries view Tokyo's efforts to connect Russia's invasion of Ukraine to China's potential use of force to secure its core interests. The overwhelming concern for Warsaw, Budapest and other governments in the region is NATO defending against a potential expansion of Russia military power. They would not support the alliance's resources being deployed to the Indo-Pacific region.
Moreover, the same states continue to rely on Russian energy to power their economies. Rather than Japan contributing to a broader and deeper securitization of NATO, Tokyo would be better positioned to help construct critical energy-related infrastructure through its various infrastructure and connectivity initiatives to make the EU less susceptible to energy extortion.
Working more closely with NATO, Seoul, Wellington and Canberra and Tokyo can contribute to Indo-Pacific stability in several formats that complement NATO's pushback against Putin. For example, the Partners in the Blue Pacific and the Indo-Pacific Economic Framework focus on development, economic standards and environmental sustainability.
Building consensus with NATO, the EU and other like-minded states, Japan may wish to table a collective Taiwan Relations Act based on a "One-China" policy. The collective position would explicitly reject a nonpeaceful unification with Taiwan or a unilateral declaration of independence by the island.
While an imperfect solution to the cross-strait dilemma, a collective act may provide China the comfort that NATO and its partners will not deviate from the status quo with the intention to maintain peace and stability across the strait.
The limits and possibility of Japan-NATO cooperation will be defined by practical cooperation in the Indo-Pacific region that does not take resources away from NATO's primary purpose, to defend against Russia.
Equally important is clear communication to Beijing that Russian-style aggressive behavior with Chinese characteristics in the region will be collectively resisted through economic, diplomatic and military statecraft to preserve peace and stability in the Indo-Pacific.
Stephen Nagy is a senior associate professor at the International Christian University in Tokyo, a Senior Fellow at the Macdonald Laurier Institute, a fellow at the Canadian Global Affairs Institute and a visiting fellow with the Japan Institute for International Affairs.