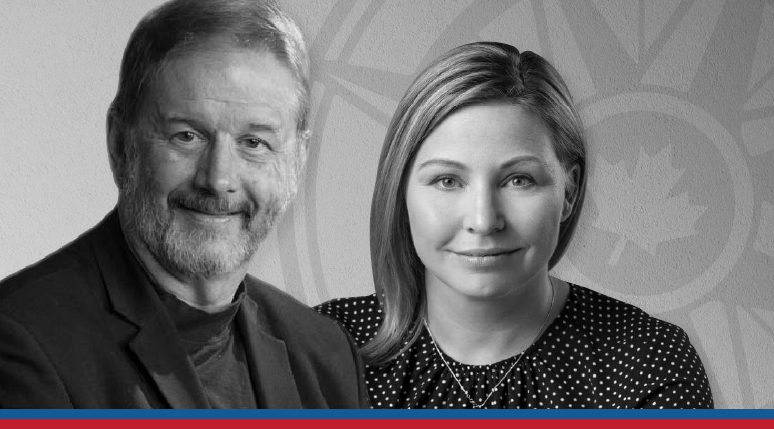 OTTAWA, ON (April 28, 2022): The Macdonald-Laurier Institute is pleased to welcome its newest Senior Fellows, Rob Huebert and Heather Exner-Pirot. Huebert joins the Institute's roster of experts focused on issues related to Canadian defence and Arctic security, while Exner-Pirot will continue to provide expert advice on Indigenous and Northern issues as well as energy security.
Huebert is Associate Professor in the Department of Political Science at the University of Calgary. He has also served as the Associate Director at the university's Centre for Military and Strategic Studies. He was appointed as a member to the Canadian Polar Commission (now renamed Canada Polar Knowledge) from 2010 to 2015.
He has also written on the issues of Canadian Arctic security, maritime security, and Canadian defence. His work has appeared in International Journal, Canadian Foreign Policy, Isuma – Canadian Journal of Policy Research and Canadian Military Journal. He was co-editor of Commercial Satellite Imagery and United Nations Peacekeeping and Breaking Ice: Canadian Integrated Ocean Management in the Canadian North.
"The Institute is honoured to welcome Rob Huebert as a Senior Fellow," says MLI's Director of Foreign Policy Shuvaloy Majumdar. "Huebert is a veteran expert on Canadian national defence, especially as it relates to Canada's role in the Arctic. His knowledge will contribute greatly to MLI's already burgeoning roster of experts on Arctic security."
Exner-Pirot, an authority on Indigenous and Northern economic development, governance, health, and post-secondary education, was previously Senior Policy Analyst and Research Coordinator at MLI.
"It is a great privilege to welcome Heather Exner-Pirot in her new role at the Institute as a Senior Fellow," says MLI Managing Director Brian Crowley. "I am confident that with her ongoing contributions, MLI will continue to be at the forefront in offering expert policy advice on matters relating to Indigenous Canadians and Northern issues."
Heather is also a Global Fellow at the Woodrow Wilson International Center for Scholars in Washington, DC. She will be pursuing a residential fellowship for four months this fall at the Wilson Center's Polar and Canada Institutes, studying Arctic and Indigenous development.
"Heather is a distinguished scholar with whom I have had the honour of working with in the past," adds Ken Coates, Distinguished Fellow and Director of the Indigenous Affairs Program at MLI. "Her promotion was a matter of formality given her wealth of experience and knowledge."
For more information, media are invited to contact:
Skander Belouizdad
Communications Officer
613-482-8327 x111
skander.belouizdad@macdonaldlaurier.ca