The Supreme Court of Canada erected its decision to strike down some of the government's mandatory minimum sentence legislation on a flimsy understanding of the law, Macdonald-Laurier Institute author Lincoln Caylor told CTV.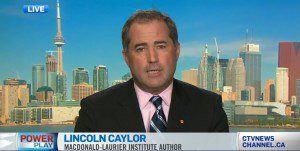 On Tuesday the Court released a ruling that struck down a law that called for a mandatory minimum sentence of three years for illegal possession of a firearm.
The Court's decision said that the legislation could lead, in some cases, to disproportionate punishment for some offenders.
But Caylor said that, by taking an extreme hypothetical, the Court erred.
"What the Supreme Court has done is taken an extreme possibility and improperly applied it to this law to strike it down", said Caylor.
"What we're seeing now is the Court using an extreme example that defies common sense", he added.
To watch Caylor's CTV interview, click here.
He pointed to the opinions of the minority of judges in the decision, who said that respecting the will of Parliament should take precedence over extreme hypothetical examples.
"In my view, the Supreme Court of Canada, in lacking the common sense with the decision that they've come out with, is undermining the policy that the government put forward", Caylor says.
Caylor also spoke to National Post columnist John Ivison about the long-term impact of the Court's decision to strike down government legislation.
"This is now the most political court we've ever seen", Caylor says.
Caylor is the co-author, with Gannon Beaulne, of a report for MLI arguing that mandatory minimums are an effective tool for consistently applying the law while ensuring judges don't provide too much leniency to those who have been convicted of crimes.
Beaulne, in speaking with the Canadian Press, echoed those sentiments. He said the Supreme Court overstepped its jurisdiction.
Beaulne also spoke with a few radio stations about the decision: CFAX in Victoria, CJOB in Winnipeg, 1310 News in Ottawa, Zoomer Radio in Toronto and CHML in Hamilton.