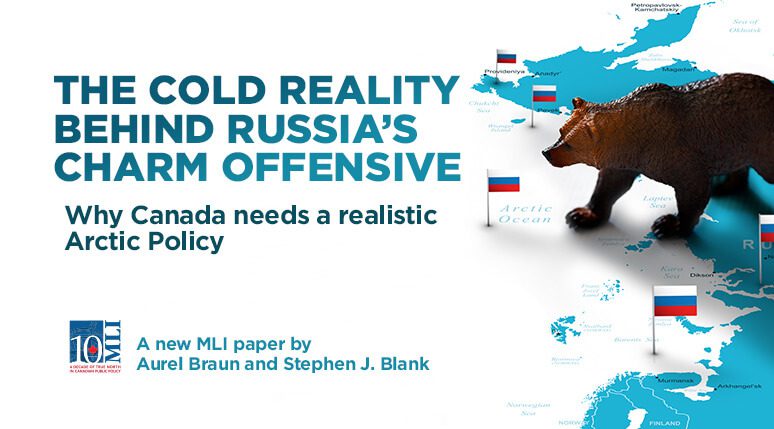 OTTAWA, ON (April 9, 2020): Though the COVID-19 pandemic has justifiably captured the public's attention, it is important to remember that authoritarian regimes remain undeterred and continue to pursue their objectives. A new Macdonald-Laurier Institute paper warns that Canadians should be particularly concerned about Russia's political, economic, and geostrategic ambitions in the Arctic.
The report, titled "The Cold Reality Behind Russia's Charm Offensive: Why Canada needs a realistic Arctic Policy," provides an analysis by authors Aurel Braun and Stephen Blank of Moscow's motivations in the Arctic and why Canada needs to pursue a policy program that parses Russia's rhetoric from its actions in the region.
According to Braun and Blank, policy-makers in Russia believe that their country's economic future is dependent on the resource-rich Arctic basin and that they are staring down an existential threat from NATO. As a result, the authors argue that Russia, driven by economic need and paranoia, "has poured resources into building substantial ground, air, and maritime forces in the Arctic."
Moreover, Russia is not limiting its Arctic posturing to a military buildup. Braun and Blank examine Moscow's approach to international law, writing that Russia has "pursued an aggressive legal policy in the Arctic, seeking, through UN channels, to claim over 1.2 million square kilometres of the Arctic sea shelf and an enormous expanse of the Arctic Ocean seabed. There is a risk of Russian unilateralism if this claim is rejected."
And yet, despite Russia's aggressive pursuit of its claims in the Arctic, Moscow is engaged in what Braun and Blank describe as a "charm offensive." The rhetoric from Russia regarding its actions in the region is focused on peace, cooperation, and consensus-building. The authors argue that distinguishing Russia's actions from its rhetoric is paramount in terms of developing a coherent and effective Arctic strategy.
Furthermore, it is impossible to separate Russia's actions in the Arctic from its actions in Ukraine and its illegal annexation of Crimea. Moscow's approach in the Arctic is intimately linked with the more overtly aggressive foreign strategy that it has employed elsewhere in the world.
For instance, a guiding precept of Russian President Vladimir Putin's global ambitions is a multifaceted de facto alliance between Russia and China. With China becoming more and more engaged in the Arctic, Braun and Blank warn that Canadian policy-makers must view Russia-China cooperation as a serious challenge to the democratic order in the region.
"Both Moscow and Beijing have not only threatened Western and Canadian interests on both sides of the Arctic, but they have also flaunted their unilateralism and aggressiveness with regard to issues that directly relate to major Arctic concerns," write Braun and Blank. "Such systematic behaviour cannot but alarm responsible policy-makers in North America, Europe, and Asia."
So what should Canada do? The authors provide a series of policy recommendations that Canada has so far failed to accomplish but would be wise to prioritize. Specifically, Canada must endeavour to revitalize its presence in the Arctic by purchasing fifth-generation aircraft to replace our aging F-18s. These new fighters will require both stealth capabilities and the ability to integrate into a wider system. As well, Canada should focus on acquiring capable icebreakers for both military and search and rescue purposes.
"If Canada is to effectively address its geostrategic, geo-economic, and environmental concerns in the Arctic, it has to significantly boost its actual military capabilities," conclude Braun and Blank. "It will need to substantially boost its defence expenditures, and it would be wise to focus on achieving a qualitative edge, especially when it comes to airpower, since Canada will not be able to match Russia's quantitative superiority."
To learn more about Russia's approach to the Arctic and why Canada needs a realistic Arctic policy in response, read the full paper here.
***
Aurel Braun is a Professor of International Relations and Political Science at the University of Toronto. He was recently a Visiting Professor in the Department of Government at Harvard University for three years (2012-2015). Currently he is a Center Associate of the Davis Center at Harvard University.
Stephen J. Blank is Senior Fellow at FPRI's Eurasia Program. He has published over 900 articles and monographs on Soviet/Russian, U.S., Asian, and European military and foreign policies, testified frequently before Congress on Russia, China, and Central Asia, consulted for the Central Intelligence Agency, major think tanks and foundations, and more.
For more information please contact:
Brett Byers
Communications and Digital Media Manager
613-482-8327 x105
brett.byers@macdonaldlaurier.ca