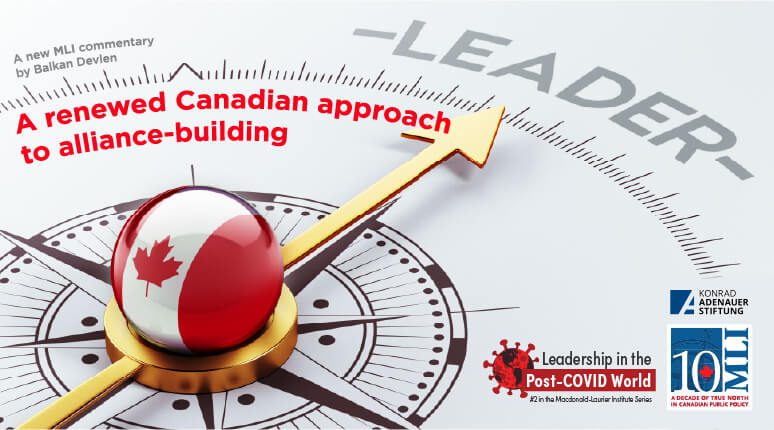 OTTAWA, ON (December 16, 2020): New polling conducted on behalf of the Macdonald-Laurier Institute finds that Canadians have wide-ranging views on multilateral organizations and are pessimistic about the world's future in the wake of the COVID-19 pandemic.
This is the second segment of a three-part project which measures Canadians' views regarding Canada's place in the world. MLI Senior Fellow Balkan Devlen explores these findings in depth in a new MLI commentary titled "A renewed Canadian approach to alliance-building." The full results of this part of the project are available here, and more information on part one can be found here.
As the survey reveals, Canadians are worried about the post-COVID world order. Forty-two percent of Canadians are pessimistic about the world stage whereas only 34 percent are positive and roughly a quarter of Canadians are neutral. In this changing landscape, Canadians appear to support a foreign policy that is anchored in cooperation with traditional allies through multilateral institutions.
Notably, while Canadians have largely positive views of international organizations, these views vary considerably based on the organization in question. For instance, security-oriented organizations that are characterized by cooperation with traditional allies are viewed most positively. NATO and the Five Eyes have a net positive impression of 45 percent and 51 percent, respectively.
"These results underscore that Canadians remain connected to the rules-based order and supportive of core institutions and groupings such as NATO and Five Eyes," says MLI Senior Fellow and the Director of the Indo-Pacific Program Jonathan Berkshire Miller.
The positive views of these organizations come despite the fact that Canadians hold quite negative views toward the United States, which plays a central role in both alliances. "That may not only reflect how Canadians dislike the Trump administration but not the United States per se, but also the high regard that Canadians have towards these venerable alliance arrangements," explains Devlen.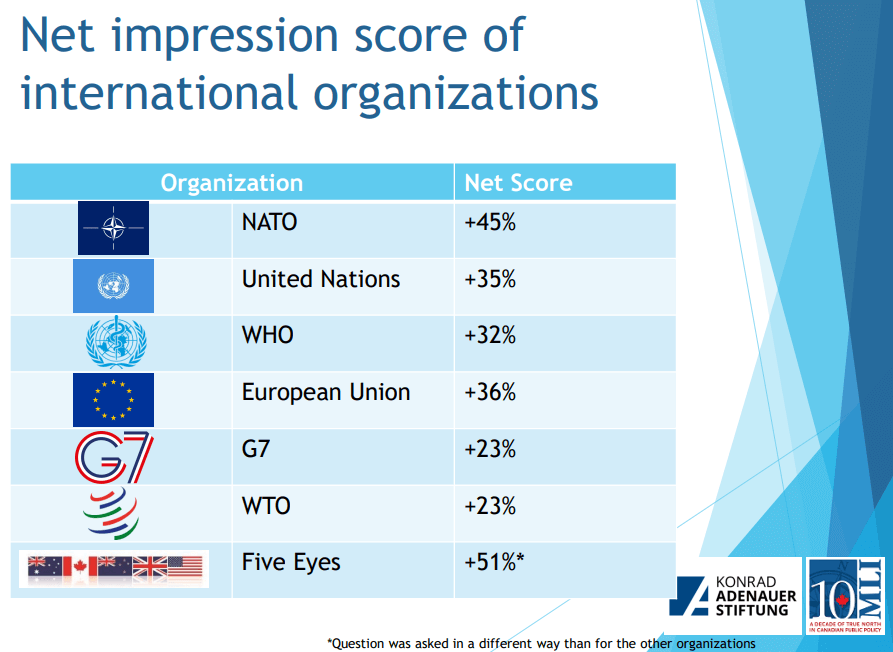 Meanwhile, Canadians are less certain though still largely positive regarding international organizations that are economic in their orientation. Net impressions of the G7 (+23 percent) and World Trade Organization (+23 percent) are relatively low when compared to other organizations, largely driven by a lack of visibility among Canadians.
And despite overall net positive views among Canadians, significant minorities of Canadians hold negative views regarding the United Nations and agencies like the World Health Organization. This trend is most pronounced along partisan lines. For instance, among those who voted for the Conservative Party in the 2019 election, 35 percent view the UN negatively, and 42 percent view the WHO negatively.
A majority of Canadians also have positive views of globalization (69 percent), but roughly half (48 percent) would like to see the pace of globalization slow down. While Canadians have traditionally supported robust immigration, interconnected trade, and a dynamic economy, Canadians appear to also be cautious about the unintended socio-economic costs of globalization.
According to MLI Program Director and Munk Senior Fellow for Foreign Policy Shuvaloy Majumdar, "a shift has occurred in Canadian attitudes toward global prosperity, in which technology and other disruptions require the fierce promotion of Canadian economic interests in a competitive age."
To learn more about Canadians views on foreign affairs, read the commentary here, or take a look at the full polling results available here.
***
This poll was done in partnership with the Konrad Adenauer Foundation. MLI also used the services of One Persuades for the polling. The survey was conducted nationally between September 28th and 30th, 2020, in English and French, and surveyed 1023 Canadians. The margin of error for the national sample is +/-3.1%.
Balkan Devlen is a Senior Fellow at Macdonald-Laurier Institute, Adjunct Research Professor at Norman Paterson School of International Affairs at Carleton University, and Superforecaster for Good Judgment, Inc.
For more information, media are invited to contact:
Brett Byers
Communications and Digital Media Manager
613-482-8327 x105
brett.byers@macdonaldlaurier.ca