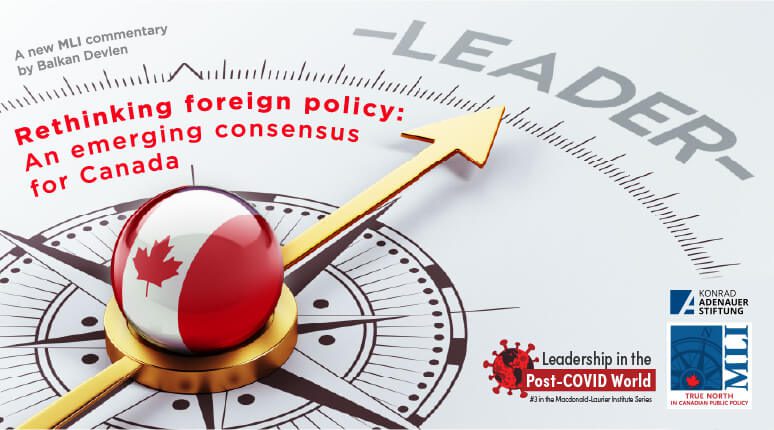 OTTAWA, ON (February 22, 2021): Polling conducted on behalf of the Macdonald-Laurier Institute unveils a new, emerging consensus among Canadians' views on foreign policy.
In a new commentary titled "Rethinking foreign policy: An emerging consensus for Canada," MLI Senior Fellow Balkan Devlen examines how Canadians view the importance of democratic allies, international institutions, defence spending, and the govern­ment's stated foreign policy goals. This commentary is the third and final installment in a collection analysing polling data on Canadians' views on foreign affairs.
A majority of Canadians (58 percent) believe that Canada should more often side with the world's democracies. Fifty percent think we should do so over siding with multilateral organizations like the UN; only 22 percent disagree.
"Canadians think it matters who [we stand] with in international politics and their choice is clear: democracies," explains Devlen. This is especially present in the Indo-Pacific. Sixty-seven percent of Canadians believe we should form closer relationships with the democracies in the region.
"The results here reinforce a point that MLI has been underscoring for some time – Canadians understand the importance of the Indo-Pacific region and want to premise our engage­ment on relationships with like-minded partners, like Japan, India and Austra­lia," notes Senior Fellow and Director of MLI's Indo-Pacific Program, Jonathan Berkshire Miller.
In addition, 61 percent of Canadians believe we should be much more active within NATO. Of Canadians who are highly-informed about foreign policy, this number jumps to 74 percent. Furthermore, a strong majority of Canadians (80 percent) think Canada's defence spending should be either maintained (46 percent) or increased (34 percent).
Though not a top priority, 53 percent of Canadians say foreign policy is at least moderately important to their vote. Nearly one-third (28 percent) say foreign policy will be more important in informing their vote in the next election.
Canadians strongly support the federal government's stated foreign policy objectives. Eighty percent support the revitalization of rules-based international order, 91 percent agree with strengthening Canada's place in North America, 86 percent support prioritizing poverty eradication, 56 percent believe we should once again attempt to get a seat on the UN Security Council, and inclusive trade is supported by 89 percent of Canadians. However, it is not all good news for the government; previous MLI polling has demonstrated clearly that Canadians believe Ottawa must do more to stand up to authoritarian regimes, in particular, China.
MLI Senior Fellow Christian Leuprecht points out "there is remarkable consistency in foreign policy priorities between declared Liberal and Conservative voters, and a fairly broad consensus in favour of current levels of defence spending.  The relative consistency of results across various groups confirm that Canadian foreign policy interests are relatively immutable."
"Canada can heed lessons from key European allies such as Germany and France that invest very systematically in political education about foreign policy to raise the level of awareness and appreciation for the importance of foreign policy in Canadian political affairs, as only a heightened level of awareness is also going to generate the necessary level of political attention and resource allocation."
Policy-makers who fail to recognize the growing importance of foreign policy to voters risk being reminded of that fact at the ballot box. "International events directly impacting the safety of Canadians have heightened an awareness of foreign affairs in our national life," says Shu­valoy Majumdar, MLI Program Director and Munk Senior Fellow for Foreign Policy.
To learn more about Canadians views on foreign affairs, read the commentary here, or take a look at the full polling results available here.
***
This poll was done in partnership with the Konrad Adenauer Foundation. MLI also used the services of One Persuades for the polling. The survey was conducted nationally between September 28th and 30th, 2020, in English and French, and surveyed 1023 Canadians. The margin of error for the national sample is +/-3.1%.
Balkan Devlen is a Senior Fellow at Macdonald-Laurier Institute, Adjunct Research Professor at Norman Paterson School of International Affairs at Carleton University, and Superforecaster for Good Judgment, Inc.
For more information, media are invited to contact:
Brett Byers
Communications and Digital Media Manager
613-482-8327 x105
brett.byers@macdonaldlaurier.ca