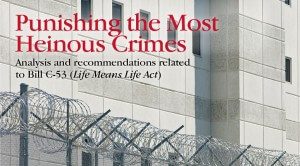 The most heinous criminals deserve real life sentences, but the federal government's Bill C-53 overreaches
OTTAWA, May 7, 2015 – The federal government needs to amend legislation that would create the sentence of life without parole for those convicted of the most heinous murders or risk having the law struck down by a Charter challenge, according to a new report from the Macdonald-Laurier Institute.
Author Benjamin Perrin, an MLI Senior Fellow, says the government's goal – to ensure those convicted of the most egregious crimes stay in prison – is laudable. However he says that the legislation as it is currently drafted needs work.
"Heinous murderers are not sentenced as they should be in Canada and there is constitutional room to enhance their penalties", writes Perrin. "However, Bill C-53 overreaches in this effort and thus risks failing to achieve the needed reform".
Perrin's recommendations include making life without parole a discretionary rather than mandatory sentence, and clearly articulating the reasons for the legislation.
To read the full report, titled "Punishing the Most Heinous Crimes: Analysis and recommendations related to Bill C-53 (Life Means Life Act)", click here.
Perrin says the need for change is clear. The problem, says Perrin, is that the Criminal Code currently treats all first-degree murders equally. Aside from those convicted of killing more than one person, people found guilty of even the most heinous of murders are eligible for parole after 25 years.
The government's Bill C-53, known as the Life Means Life Act, would change that by creating a sentence of life without parole for murders that are particularly offensive to the public and damaging to Canadian society.
This would, for example, create a harsher sentence for those committing a planned and deliberate murder alongside sexual assault, hostage taking or terrorist activity.
Those found guilty of murdering a police officer that involves planning and deliberation would also be ineligible for parole. As it stands now, a conviction of killing a police officer automatically carries a first-degree murder penalty.
Bill C-53 will also offset some of the shortcomings of the parole system. Perrin points out that 22 per cent of paroled murderers had their parole revoked over a 14-year period from 1994 to 2008. Those sentenced to life without parole would be able to apply to the Minister of Public Safety for "executive release", to be granted in exceptional situations on humanitarian grounds.
Perrin recommends several changes that would strengthen Bill C-53's ability to withstand a Charter challenge.
Bill C-53 should be amended so that life without parole would be a discretionary – not a mandatory – sentencing option for heinous murders. The judge should also have the option of ordering a fixed-term parole ineligibility period of between 25 and 75 years. A jury recommendation, if it is a jury trial, should be sought in these cases.
The situations where Bill C-53 would currently provide for discretionary life without parole should not provide for that penalty but instead give the sentencing judge the option of ordering a fixed-term parole ineligibility period of between 25 and 75 years, with a jury recommendation where there is a jury.
All offenders serving life sentences with parole ineligibility periods greater than 35 years should be eligible to apply for executive release (not simply those sentenced to life without parole), up until the time that they become eligible for parole.
The Parole Board of Canada should provide an assessment to the Minister of Public Safety of all offenders serving a sentence of life imprisonment without parole when they apply for executive release at least 35 years after beginning to serve their sentence.
The purposes of Bill C-53 should be clearly articulated.
"The legislation requires amendments if it is to achieve its stated goals without being struck down based on a challenge under the Canadian Charter of Rights and Freedoms", Perrin writes.
***
Benjamin Perrin is an Associate Professor at the University of British Columbia, Peter A. Allard School of Law and a Senior Fellow at the Macdonald-Laurier Institute. He previously served as Special Adviser, Legal Affairs & Policy in the Office of the Prime Minister and was a Law Clerk at the Supreme Court of Canada. He is a member of the Law Society of British Columbia.
The Macdonald-Laurier Institute is the only non-partisan, independent national public policy think tank in Ottawa focusing on the full range of issues that fall under the jurisdiction of the federal government. Join us in 2015 as we celebrate our 5th anniversary.
For more information, please contact Mark Brownlee, communications manager, at 613-482-8327 x105 or email at mark.brownlee@macdonaldlaurier.ca.