In a balanced assessment of the controversial anti-terror legislation, author Scott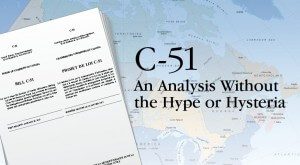 Newark says Canada's Bill C-51 will help to fight back against Islamist terrorism while still safeguarding individual liberties, but there is room for improvement.
OTTAWA, March 26, 2015 – Canada's new anti-terrorism legislation is a measured response to a dangerous threat that respects individual privacy while still protecting collective security, according to a new commentary paper from Macdonald-Laurier Institute author Scott Newark.
The paper provides a sober analysis of Bill C-51, new legislation that has so far been clouded on both sides of the debate by strong emotion.
"As uncomfortable as it may be for some people, the existence of this threat is now undeniable and re-examining existing legislative tools to address this reality is an entirely appropriate action to take", writes Newark.
To read the new commentary, titled "C-51: An analysis without the hype or hysteria", click here.
Newark, a former security advisor to the federal and Ontario governments, says preserving Western values and a commitment to freedom is important with any new anti-terrorism legislation. As a result, it's understandable that the new bill has generated controversy.
However he says that some concerns about the bill have been overblown.
"Contrary to some of the criticisms leveled against it, C-51 does contain a number of internal 'checks and balances' which are intended to prevent the kind of abuse by government that is being raised", Newark writes.
This includes defined criteria for action, mandated judicial oversight with defined criteria, applicability of existing measures and increased after the fact review for new powers provided by C-51.
Other safeguards exist as well.
Newark says that the Parliamentary Committee process can also play a role in providing oversight of the new measures. For example, a mandated review after five years by a specially empowered Joint House-Senate Committee is a good example of how that can be achieved.
Bill C-51 is a good start, Newark writes, but changing the legislation governing Canada's anti-terror laws won't be enough to deal with the ever-changing threat that Islamist terrorism poses.
Non-legislative action, including providing more public money for counter-terrorism measures and finding ways to increase operational coordination among security agencies, is also a must.
Newark says what's needed now is a reasoned analysis of Bill C-51.
"C-51 has attracted considerable criticism precisely because, by necessity, it deals with matters which potentially impact on important Canadian values and principles that are rightly cherished and protected", Newark writes.
"These events and these issues clearly generate strong emotion which has manifested itself on both sides of the debate on several issues which, hopefully, will not derail the necessary analysis and action in confronting this threat in an effective but balanced way".
***
Scott Newark is a former security and policy advisor to both the Ontario and federal Ministers of Public Safety. During a 30-year criminal justice career, he has also served as an Alberta Crown Prosecutor, Executive Officer of the Canadian Police Association, Vice Chair and Special Counsel for the Ontario Office for Victims of Crime and Director of Operations for the Washington D.C. based Investigative Project on Terrorism.
The Macdonald-Laurier Institute is the only non-partisan, independent national public policy think tank in Ottawa focusing on the full range of issues that fall under the jurisdiction of the federal government. Join us in 2015 as we celebrate our 5th anniversary.
For more information, please contact Mark Brownlee, communications manager, at 613-482-8327 x105 or email at mark.brownlee@macdonaldlaurier.ca.