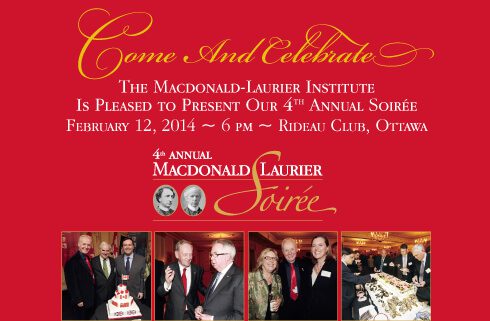 The Macdonald-Laurier Institute is pleased to present our
4th Annual Macdonald-Laurier Soirée on
February 12, 2014
from
6 pm to 8 pm
at the
Rideau Club
99 Bank Street, 15th Floor, Ottawa ON K1P 6B9
Details: 
This annual event brings together parliamentarians, political watchers, public servants and other Ottawa luminaries to celebrate great Canadian Prime Ministers in the tradition of Sir John A. Macdonald and Sir Wilfrid Laurier.

Please join us as we celebrate the very best of Canada's political history and traditions, while supporting the work of MLI – the premier voice in Canadian national
public policy. Our honorary host will be the Hon. Peter Milliken; guest speakers will be Industry Minister James Moore and former Justice Minister Irwin Cotler.

A special thank you to our sponsors:
For event information and sponsorship opportunities, please contact:
Walter Willett, (613) 482-8327 ext. 102 or walter.willett@macdonaldlaurier.ca
For media inquiries, please contact:
David Watson, (613) 482-8327 ext. 103 or david.watson@macdonaldlaurier.ca
Please note: Business attire is required at the Rideau Club.