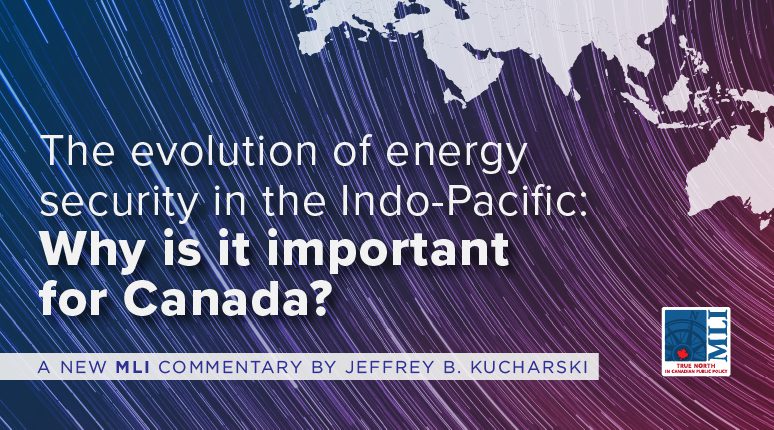 OTTAWA, ON (February 24, 2022): Countries that require energy imports are facing growing challenges maintaining reliable energy supply chains amid the world's swirling political undercurrents. However, this same scenario could make resource-rich Canada a major player in one of world's fastest-growing economic regions.
In a new commentary "The evolution of energy security in the Indo-Pacific: Why is it important for Canada?" MLI Senior Fellow Jeffrey B. Kucharski discusses how geopolitical pressures will impact global energy security, creating an opportunity that Canada should seize.
Kucharski, a scholar in energy science who has spent years building trade relationships in Asia, says Canada is well positioned to be an energy partner for the bustling Indo-Pacific.
The region is " expected to have the strongest demand for energy over the next three decades, as continued economic growth and increasing numbers of people enter the middle class and increase their energy consumption," writes Kucharski, a former assistant deputy minister in the Alberta Department of Energy who had served as a senior Canadian trade commissioner in Japan.
"However, a range of tensions, rivalries and grievances are fuelling geopolitical competition in the region. It is in this context that energy and the critical resources that underpin its production, transformation and use are undergoing fundamental change."
The world's energy supply structure is a complex system with many moving parts. While fossil fuels will be with us for many years, we are nonetheless making necessary moves toward cleaner energy that will come from non-traditional sources, thus keeping the list of energy providers in a state of flux.
Energy transportation also faces turmoil. Geopolitical tensions, such as China's maritime ambitions, threaten to create uncertainty around future access to important shipping lanes.
"The concentration of energy resources in a few countries can have serious negative consequences for energy security, including increased risk from political unrest in a producing country," notes Kucharski. He says the Indo-Pacific will be the century's most dynamic economic growth region, but also one of the most geopolitically contentious, with energy supplies being a sensitive factor.
" Canada can contribute to global and regional energy security by cooperating with allies and partner to supply the energy and critical mineral resources they will need."
To see the full commentary, click the button below.

***
Jeff Kucharski is a strategic thinker, policy entrepreneur and academic. He is currently an Adjunct Professor at Royal Roads University in Victoria, B.C and a Senior Fellow at the Macdonald-Laurier Institute.
For more information, media are invited to contact:
Brett Byers
Communications and Digital Media Manager
613-482-8327 x105
brett.byers@macdonaldlaurier.ca