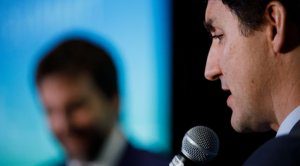 Artists and creators who had long championed rights and progressive causes have remained mute even as the Liberals crassly limited debate on C-10 in early June and stuffed the bill with last-minute amendments concocted behind closed doors, writes Peter Menzies.
This article originally appeared in C2C Journal and is being republished with permission.
By Peter Menzies, June 17, 2021
There was considerable optimism when, three years ago, Mélanie Joly and Navdeep Bains announced that Canada's pre-internet broadcasting and telecommunications legislation was to be washed, waxed and buffed up with a sparkling new 21st century shine. Joly, then the Minister of Canadian Heritage, and Bains, Minister of Innovation, Science and Industry, are no longer in charge of those portfolios. But their shared words of promise – the ones that spawned what critics denounce and insiders concede has become the catastrophe of Bill C-10 – hang over their successors like a broken wedding vow.
"The review will update and modernize the legislative framework in a balanced way that takes into account the realities of Canadian consumers and businesses, and our artists, artisans and broadcasters without increasing the cost of services to Canadians," stated the June 5, 2018 news release. "The review will be guided by the principle of net neutrality and will explore opportunities to further enshrine in legislation the principles of net neutrality."
Promising a future in which all would be contented and nothing would cost very much might have been overdoing things just a tad. Still, what could be wrong with recognizing that the internet had so irretrievably changed our world that it was time to create something more post-millennial than the #okboomer broadcasting and telecommunications acts of 1991 and 1993, respectively, controlled by an agency archaically entitled the Canadian Radio-television and Telecommunications Commission (CRTC)?
On the face of it, the panel appointed to conduct the Broadcasting and Telecommunications Legislation Review (BTLR) was not unreasonable. Former Telus executive Janet Yale, as chair, was Liberal enough but not so Liberal as to impair perception. Monique Simard, Monica Song, Pierre Trudel and Marina Pavlovic all appeared to be people not too deeply vested in the status quo. The inclusion of Peter Grant – counsel and past chair of the technology, communications and intellectual property group at McCarthy Tétrault LLP – caught the eye of some critics as someone whose regulatory worldview was not only foundational but entrenched.
Under Conservative prime minister Stephen Harper, the CRTC became a leader among the world's regulators in terms of net neutrality. Prime Minister Justin Trudeau promised likewise. "I am very concerned about the attacks on net neutrality," he said in 2017.
Those inclined to agnosticism regarding the actual content created or circulating on the internet pointed to the presence of Hank Intven, a former McCarthy Tétrault partner, professor at the University of Victoria and a past member of the 2006 telecommunications policy review panel. None of the panellists except Vancouver's Intven lived beyond a half day's drive from Ottawa, but that was not the sort of oversight to raise eyebrows on Parliament Hill.
They were building on a solid foundation – or they should have been. Under Conservative prime minister Stephen Harper, the CRTC became a leader among the world's regulators in terms of net neutrality (which, in its briefest and most simplified terms, refers to the non-discriminatory treatment of content). Prime Minister Justin Trudeau promised likewise. "I am very concerned about the attacks on net neutrality," Trudeau said in 2017. "Net neutrality is something that is essential for small businesses, for consumers, and it is essential to keep the freedom associated with the internet alive."
Back then, the CRTC's refusal to bow to those insisting it stop treating online content neutrally was bearing fruit. Thanks largely to foreign investment fuelled by streamers' thirst for content, the film and television production industry was booming. According to the Canadian Media Producers Association, activity grew from $5 billion annually to more than $9 billion in the 10 years from 2010 through 2019. While the pandemic caused the overall industry to decline by 1.1 percent in 2020, it would have been down closer to 9 percent had it not been boosted by 8 percent growth in foreign investment.
This wasn't just good for companies, it was great for individuals – and the things they wanted to say, show and do. For, in the online world beyond the regulators' closed system, Canadians had at the same time become leaders in content creation. According to a 2019 Ryerson University study, YouTube facilitated the rise of 160,000 Canadian creators, 40,000 of whom had achieved audiences large enough to monetize their programming, while 25,000 full-time jobs had been created. In other words, a credible case was being made that Canadian creators could find success beyond the embrace of the CRTC, its certified "Cancon" (an aging term meaning "Canadian content") co-dependents and the Canada Media Fund's funding formulas.
The data showed that 2018 and 2019 were the best years ever for both certified Cancon and francophone output. Despite this, the Coalition for the Diversity of Cultural Expressions – a collective of producers, guilds and creative unions – continued to fret that this activity was taking place without the blessing and control of the CRTC. This was called "the Crisis in Cancon."
In its 2018 report entitled Harnessing Change, the CRTC also expressed concern that prosperity was occurring without its permission. But still it seemed that it would take a problem greater than the regulator's angst regarding its relevance to halt progress. That optimism didn't last long. The first sign that matters might go off-track was Intven's resignation from the BTLR panel in June 2019, effective only two days after its preliminary report was published. With him gone, the panel lost is strongest proponent for a telecom perspective on regulatory reform – a focus on building, maintaining and accessing the structures necessary to facilitate communications. Instead, the balance on the panel shifted in favour of those, such as Grant, who view the world through a broadcasting lens. This entails far greater concern over the content being distributed; in particular, cultural content. Defenders of an internet free from government content control began to worry.
The final report – which the government had promised would be "balanced" – unleashed a jaw-dropping smorgasbord of radical recommendations arming the CRTC with a breathtaking arsenal of regulatory weapons designed to force the global internet, including newspapers, to submit to its authority.
They had good reason. The worst of their fears were realized in late January 2020, when the final BTLR report – which the government had promised would be "balanced" – unleashed a jaw-dropping smorgasbord of radical recommendations arming the CRTC with a breathtaking arsenal of regulatory weapons designed to force the global internet, including newspapers, to submit to its authority.
Among the most thorough evaluations of what this meant came from Michael Geist, the Canada Research Chair in Internet and E-Commerce Law at the University of Ottawa. "The strengths of the telecommunications and consumer rights portions of the report are overshadowed by a stunning set of recommendations related to Internet content, some of which are unlikely to survive constitutional scrutiny, likely violate Canada's emerging trade commitments, and rest on shaky policy grounds," Geist wrote on his much-read blog. "If enacted, the Canadian Internet would be virtually unrecognizable with the CRTC empowered to licence or require registration from a myriad of Internet services, mandate what Canadians see on those services, and intervene in commercial negotiations. Geist summed it up thus: "The report envisions unprecedented government and regulatory intervention."
Adding to the confusion were the responses of rookie MP and new Heritage Minister Steven Guilbeault, a former Greenpeace activist with a resumé not particularly well-designed for his portfolio. Among Guilbeault's extremely disturbing views was his expressed support for federal registration of all news organizations. He almost immediately walked back those comments – a habit that would prove hard to shake.
Despite that muddle, Guilbeault remained the sole government spokesman for the BTLR – a sign the government was narrowing its focus to broadcasting issues. The more experienced Bains, who had been fading into the background since the 2019 election, was by now nowhere to be found. Other important panel recommendations, including telecom reform, consumer protections, the restructuring of the CRTC into a Canadian Communications Commission and the elimination of advertising on CBC/Radio Canada, all disappeared. The not-so-invisible hand of Grant, whose influence over the evolution of the Broadcasting Act cannot be underestimated, became dominant.
Timothy Denton, chair of the Internet Society Canada Chapter and a former CRTC Commissioner, describes Grant in an interview as the "principal ideologue behind the Broadcasting Act". Denton recently used his blog to post a 1998 exchange between Grant and then CRTC Commissioner David McKendry to support his contention that "Grant's ideas…have not deviated an inch in 40 years: everything is broadcasting and nothing should escape the CRTC's jurisdiction."
Denton's suspicions were confirmed in Bill C-10, tabled last November 3. All previous aspirations had been replaced by one: getting money from web giants for the Coalition for the Diversity of Cultural Expressions, aka Big Cancon. Entirely gone was Trudeau's oft-promised protection of net neutrality. In its place were powers that, according to Geist and others, do just the opposite by empowering the CRTC to mandate preferential treatment of content under the guise of protecting Canadian culture.
Grant's assertion that because video and audio appear on the internet, the internet must therefore be broadcasting, became the new gospel to Guilbeault, who seemed oblivious to the consequences of his actions. The internet would now be within the domain of the CRTC, which would have the power to define its own scope. Going forward, Canadians would communicate over the internet only with permission of the state through decisions made by nine cabinet-appointed CRTC commissioners.
"For the narrow clique of broadcasters, CanCon producers, and their lobbyists, it is always all about broadcasting," Denton wrote in the Financial Post in March. "For Canadians, however, it is about the right to use the internet to communicate. We do not need to have our freedom of speech squelched by a government determined to protect an obsolete industrial structure. Forget about 'broadcasting': C-10 is clearly intended to allow speech control at the government's discretion. Ignore the turn signals, look at where the wheels are going. They are pointed at your right to communicate freely by means of the internet."
Peter Stockland, a veteran newspaper columnist, editor and free speech advocate, currently editor of Convivium.ca, described the government's philosophical approach this way:
"In the specific case of Bill C-10, government politicians are convinced State control must be extended over the Internet. They might be right or wrong about that. Rather than make the case directly, however, they put forward the following legislative syllogism:

The State must regulate the Internet despite facing significant opposition to State regulation of the Internet.
The State now regulates broadcasting without facing previous significant opposition to State regulation of broadcasting.
Therefore, the State must regulate the Internet by calling it broadcasting thus eliminating significant opposition to State regulation of the Internet because what's being regulated is not the Internet but broadcasting, which is already regulated without significant opposition.

The fly in the wi-fi, of course, is this: The Internet is not broadcasting. Its meaning – what it is – has, from its origins, constituted an entirely physically distinct form of communication. The Internet is no more broadcasting than newspapers are broadcasting."
The victory of Grant and the Cancon lobbyists, supported by the arguments of Canada's vertically-integrated cable companies who bear the burden of funding the CRTC's "system," was complete. Even the Conservatives, it seemed, had fallen under their spell and expressed only the most cursory concerns about the myriad of definitions left to the CRTC, including Canadian content and the split between French and English funding. Still, all parties appeared to support Guilbeault's proposition that the internet is broadcasting and the playing field must be "levelled" by forcing streaming companies such as Netflix, Disney+ and even Pornhub to financially support the production of certified Canadian content.
The Official Opposition's initial supine acceptance of all this amid a deluge of industry lobbying appeared to abandon their Harperite forebears' policy. Neutral treatment of legal content is still worth fighting for. And there remains a great deal to be concerned about in Trudeau's about-face. Lawyer Philip Palmer, one of the authors of the 1991 Broadcasting Act, describes the Cancon system it created – the one Guilbeault seeks to entrench on the internet – as a "failure." Speaking on a Macdonald-Laurier Institute panel, Palmer said that when he and his colleagues completed their work 30 years ago they assumed they had written Canada's final broadcasting act. In the infinite content world they could see forming, he said, there would be no need for another one.
"The government has not asked itself 'is regulation necessary?'" noted Palmer, vice chair of the Canadian branch of the Internet Society. "It has said 'regulation is necessary' therefore we've got to bring in these (internet) people to prop up a system that is now totally outmoded technologically and philosophically." The Liberals have failed, Palmer continued, to "encourage an audience-directed policy. Instead they want to prop up a system that has failed consumers continually throughout the history of the Canadian broadcasting system."
Geist and a handful of others continued to outline the Cancon absurdities that C-10 was poised to create. The Coalition for the Diversity of Cultural Expressions members may view themselves as artistic warriors defending Canadian culture from foreign influences, but former CRTC Chair Konrad von Finckenstein describes the Canadian content structure as "a thinly-disguised employment system for persons in the film production industry."
The opposition was nowhere near enough. By April Guilbeault was not only in full stride but promising yet more legislation.  An "online harms" bill specifically directed at managing speech on the internet was just a week or two away, he said, and after that would come legislation designed to get the newspaper lobby the money from web giants Facebook and Google they had long demanded and that Guilbeault had promised.
"The government has not asked itself 'is regulation necessary?'" noted Palmer, vice chair of the Canadian branch of the Internet Society. "Instead they want to prop up a system that has failed consumers continually throughout the history of the Canadian broadcasting system."
Online harms is a huge topic in itself. It was foreshadowed by a report the Heritage department commissioned through the establishmentarian Public Policy Forum earlier this year. Chaired by Rick Anderson, a long time Liberal (though sometime Reform Party) political strategist and campaign manager, it called for the creation of a new regulator, moralistically entitled the "Guardians of the Public Good," that would be empowered to issue massive fines on social media companies if they failed to remove content deemed objectionable by that same regulator. Outright website-blocking was another possible tool.
The online harms provisions were promoted as necessary to suppress child pornography, hate speech, defamation and the distribution of terrorist propaganda. But all these matters are already against the law and/or blocked. Guilbeault, however, appeared interested in expanding the definition of online harm even further, and giving internet censors the power to delete hurtful content. This, he said in April, was because "we have seen too many examples of public officials retreating from public service due to the hateful online content targeted towards themselves."
Guilbeault likely wasn't thinking of former Alberta Treasurer and Alliance Party leader Stockwell Day, hounded out of public life and off corporate boards only last year for daring to say that Canada is not a fundamentally racist country. Rather, if he was thinking at all, it was more likely about the naked exercise of power by government. "There is this notion of a 24-hour takedown – this is something we want to do in Canada," Blacklock's Reporter quoted Guilbeault as saying in a Canada 2020 podcast. "I am confident we can get this adopted."
The potential of expanding the definition of "hate" to include hurt feelings began to raise concerns that otherwise legal speech would be subject to state oversight. Cara Zwibel of the Canadian Civil Liberties Association put it this way to Martin Patriquin in the Financial Post: "If the government is going to impose big financial penalties on platforms and give them raw definitions of what they have to take down, the platforms are going to err on the side of removal, and that is bad for freedom of expression."
While civil libertarians braced for that battle, C-10 remained firmly on course. And then Guilbeault's carriage turned into a pumpkin. In what appears to have been a response to an "oh, and one more thing" request from the music lobby, Guibeault removed a clause in C-10 that had excluded the regulation of user-generated content, such as posts on Facebook, YouTube, Instagram and Tik Tok. The CRTC was now going to get the power not just to regulate web giants but the social media posts of ordinary citizens. It was a spectacular own goal, and weeks of controversy ensued.
Incapable even of explaining his own motivations, Guilbeault lurched from one disastrous media interview to the next, further fuelling skepticism regarding his and the government's willingness to violate the Charter of Rights and Freedoms' protections of free expression. Organizations such as OpenMedia rallied their troops. Librarians raised free speech concerns. Law professors such as Emily Laidlaw of the University of Calgary joined the fight publicly, former CRTC commissioners and von Finckenstein also spoke out, while Geist's daily blogs continued to make Guilbeault's life miserable.
The Conservatives, awakened from their lobbyist-induced narcolepsy, and with Lethbridge MP Rachael Harder taking the lead, now decided to vigorously champion the cause of free speech in Parliament. The NDP, pressured by their own base, began to hem and haw. Mainstream media commentators weighed in, and National Post and Globe and Mail editorials called for Bill C-10 to be abandoned.
Scott Benzie, a digital creator, spoke for YouTubers and others who prefer their creative success unlicensed. "This comes down to money and status," he wrote on his Buffer Festival blog. "Those inside the system do not consider online Creators 'real' artists, have created a false narrative around what is 'Canadian Culture' and feel they need to be compensated for someone else's success."
There has been a "sea change," Benzie wrote, in how content is created, stories are told and conversations are held, all of it away from traditional media. WatchMojo, the phenomenally popular Canadian-based video producer and syndicator "might be the most successful export [in] Canadian content history," says Benzie; it certainly dwarfs the audience for Cancon-darling Schitt's Creek. Yet it wins no mainstream awards. Numerous other creators such as Molly Burke, Hitesh Sharma, Stef Sanjati, Julie Vu, King Bach, Shannon Boodram or Lily Singh have "smashed barriers," says Benzie. Some have larger followings than pro sports teams and their stars. "What they all have in common," Benzie concluded, "is they didn't need the 'Canadian Media Industry' for discoverability, they just needed it to not get in the way. I fear we are starting to get in the way when we should be finding ways to enable more voices, more stories, more Canada."
By this time, Guilbeault was drowning. And so was Bill C-10, as its critics were revealing its craven pandering to a small but deeply entitled lobby. Still, nothing is more popular along the banks of the St. Lawrence than policy cloaked in cultural preservation. As controversial as the issue became, C-10 remained fashionable in francophone Quebec where history suggests that any law purportedly aimed at the protection of its civilization will subordinate concerns over Charter freedoms every time. The federal government, aware that failure to pass C-10 might be exploited by the Bloc Québécois in an election campaign, dug in and C-10 lumbered on.
The Cancon lobby, which displayed an unsettling ruthlessness and surprising contempt for freedom of expression concerns, did likewise. Artists and creators who had long championed rights and progressive causes have remained mute even as the Liberals crassly limited debate on C-10 in early June and stuffed the bill with last-minute amendments concocted behind closed doors. "It is hard to think of a more secretive law-making process in a democracy than passing amendments to a bill that are not made available to the public prior to the vote nor open for any discussion or debate," warned Geist. "How did it get to this point?"
How indeed. Maybe C-10 will make it through Parliament before it recesses for the summer on June 23. Maybe it won't. If it doesn't, maybe the Senate will deal with it in September. And maybe, if an election is called, it will die an unlamented death on the Order Paper and take its place in the graveyard of good intentions clearly gone very bad.
Peter Menzies is a past vice-chair of the CRTC and is a Senior Fellow at the Macdonald-Laurier Institute.