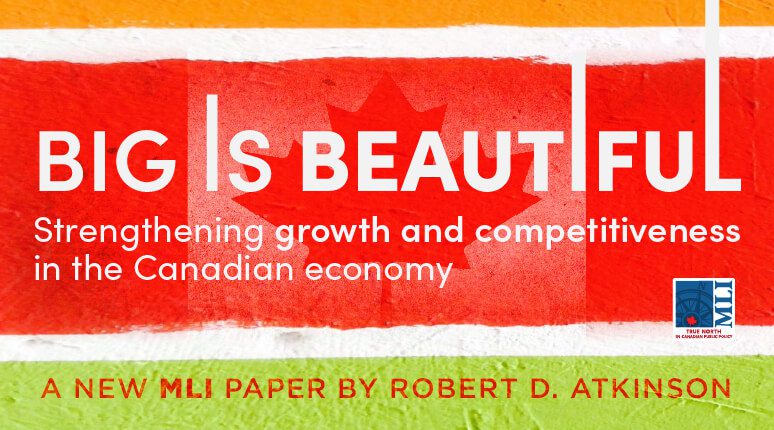 OTTAWA, ON (November 22, 2021): These days it is popular to take the view that big business is inherently bad. Canadians often view large enterprises as monopolistic predators, causing  a wide range of ills, including income inequality and the demise of small and family-owned businesses. Yet, a close analysis reveals that big business is improperly cast in the villain's role.
In MLI's latest paper, titled "Big is Beautiful: Strengthening growth and competitiveness in the Canadian economy," author Robert D. Atkinson makes the case that if Canada wants a growing, competitive economy with higher productivity and wages, policy-makers need to recognize the critical role that large businesses play. Moreover, he argues that policy priorities should shift to better support that role. Atkinson discussed his paper in an MLI webinar that was just broadcast and can be watched in full here.
As Atkinson writes, "despite the popular narrative that small is better, size is undeniably a benefit in industries that require scale or innovation, are network-based, or face global competition." Businesses such as banking, utilities, transportation, and industries with high research intensity all fit into this category.
Moreover, Atkinson finds that large firms in Canada and throughout much of the developed world outperform small businesses on a wide range of economic and social indicators. In Canada, firms with more than 500 employees pay their workers 44 percent more than their smaller counterparts on average due to higher productivity. These businesses tend to grow faster, and they also tend to adhere to what can be considered best social practices, including higher rates of employing women and higher unionization rates.
"Canada suffers from having too great a proportion of its economy in smaller, less productive firms," writes Atkinson.
While larger firms do come with many benefits, Atkinson acknowledges that in some cases these businesses can engage in anti-competitive practices that limit competition, harm productivity, and limit innovation. In this context, the author urges policy-makers to design competition policy so as to not unduly punish big businesses merely for their size. He stresses the focus of competition policy should be the conduct, rather than the size or structure, of businesses.
Additionally, he proposes that Canada should:
Expand the size of its markets by supporting greater economic integration in North America, reducing unnecessary barriers to foreign competition, and removing impediments to interprovincial trade;
Be careful about changing the current efficiencies and competitiveness defence in any review of mergers, where firms can defend proposed mergers on the basis of improved productivity and global competitiveness;
Resist the urge to radically change competition law to meet new industry conditions;
Help small firms boost productivity, such as extending services to small farmers and manufacturers so that they can embrace better technology; and
Embrace size neutrality, by treating all companies, large and small, the same – though an exception can be made for supporting and encouraging the establishment of new firms.
For Atkinson, there is a consequence to the view that "small is beautiful, big is ugly" with respect to businesses, including "lower productivity and wage growth, worse working conditions, reduced innovation, and declining global competitiveness."
To read the full paper, click on the button below.

Robert D. Atkinson (@RobAtkinsonITIF) is the founder and president of the Information Technology and Innovation Foundation, a technology policy think tank in Washington, DC, and is the author of many books on competition policy, innovation, and economics. His most recent book is "Big is Beautiful: Debunking the Myth of Small Business."
***
For more information, media are invited to contact:
Brett Byers
Communications and Digital Media Manager
613-482-8327 x105
brett.byers@macdonaldlaurier.ca