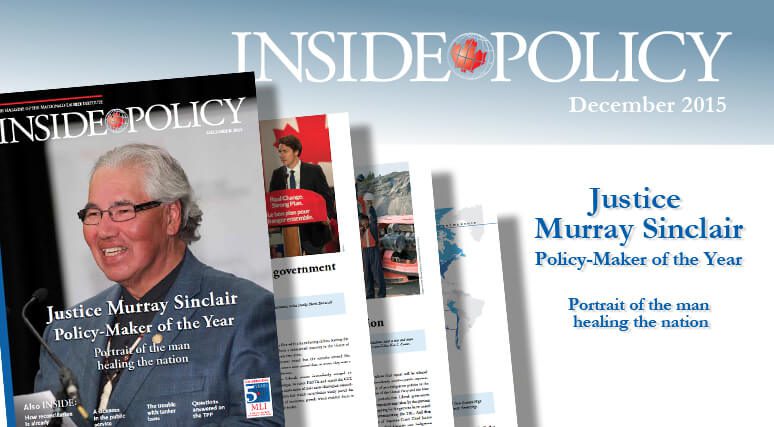 MLI's magazine profiles Justice Sinclair's contributions to the changing fortunes of Aboriginal Canadians
OTTAWA, Dec. 14, 2015 – Aboriginal affairs in Canada underwent a seismic shift in 2015. The release of the summary report of the Residential Schools Truth and Reconciliation Commission shook this country like few other events.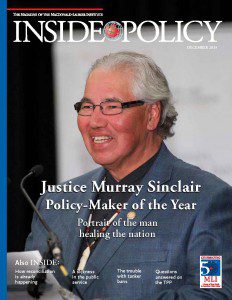 So who better to take the mantle of "Policy-Maker of the Year" for 2015 than the commission's chair, Murray Sinclair?
The December 2015 edition of Inside Policy, the magazine of the Macdonald-Laurier Institute, profiles Sinclair and his work with the TRC commission.
To read the full version of the magazine, click here.
In a moving interview with Inside Policy's Robin Sears, Justice Sinclair recalls what he learned from the powerful testimony of 7,000 survivors in communities across the country, his personal connection to the tragedy of the residential schools program, and how he hopes his work changes Canada for the better. The TRC's final report is due out this week.
MLI Senior Fellow Ken Coates, in a companion piece, applauds the example Sinclair and the TRC set. But, he points out, true reconciliation will be impossible if Aboriginal Canadians can't significantly improve their prosperity, and there is a role for all Canadians to play.
Also in this edition of Inside Policy:
Professor

Bram Noble

explains how Canada's environmental assessment process is failing both Aboriginal people and resource developers;

Former diplomat

Robert Hage

explains the trouble with banning oil tankers on the West Coast

Regular contributor

Stanley Hartt

warns the new Liberal government that the majority honeymoon won't last long;

Jack Stilborn

says parliamentary reformers are fighting lost battles

MLI interviews New Zealand High Commissioner

Simon Tucker

in a fascinating Q and A about the benefits of the TPP;

Richard Owens

takes on the TPP alarmists;

Rachael Cunliffe

of CapX finds that Uber has made New York cab rides much more pleasant;

Senior Fellow

Philip Cross

examines why federal public employees take so much sick leave (because they can?).

In an excerpt from his new book, The Inequality Trap, economics professor

William Watson

explains why poverty isn't what it used to be.
***
Inside Policy, the flagship magazine of the Macdonald-Laurier Institute, is published six times a year.
The Macdonald-Laurier Institute is the only non-partisan, independent national public policy think tank in Ottawa focusing on the full range of issues that fall under the jurisdiction of the federal government. Join us in 2015 as we celebrate our 5th anniversary.
For more information, please contact Mark Brownlee, communications manager, at 613-482-8327 x105 or email at mark.brownlee@macdonaldlaurier.ca.