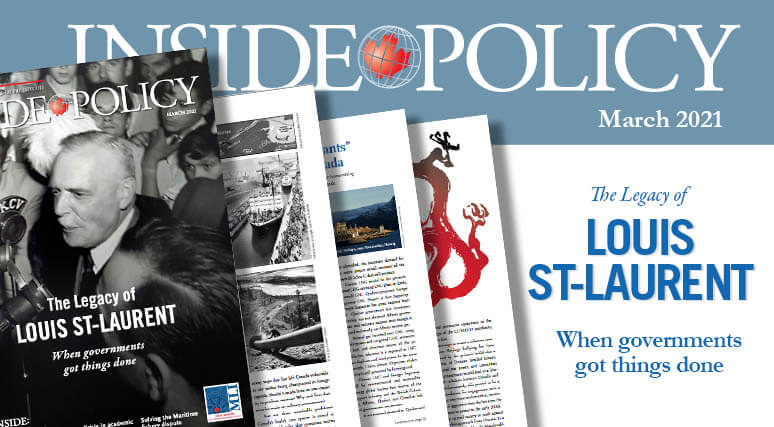 OTTAWA, ON (March 31, 2021): Canada seems to have forgotten how to get things done, from pipelines to vaccine development. In our latest issue of Inside Policy, MLI's authors and experts draw inspiration from Louis St-Laurent, the post-war Liberal prime minister who offers salient lessons on how to govern successfully and accomplish a great many things in times of crisis.
According to Patrice Dutil, whose contribution leads our cover feature, St-Laurent provided a vision for a nation in need of rapid transformation. Unlike some more recent governments, St-Laurent's did far more than just spend.
"Some think it's a question of simply having a stronger political class of 'statesmen,' and I think there's merit to this view," writes Dutil.
Contributing to the cover feature, Ken Coates looks back at St-Laurent's efforts to revitalize the rural parts of Canada and his successful push to complete large infrastructure projects. Furthermore, Gregory Marchildon examines St-Laurent's record on securing universal hospital coverage and David MacKenzie explores St-Laurent's pivotal role in bringing Newfoundland into Confederation.
Also, in this edition of Inside Policy, Chris Sankey discusses how "eco-colonialists" have put up obstacles to pipeline projects and Indigenous prosperity, while Mike Priaro points to the significant opportunities offered by a national energy corridor capable of transmitting Quebec and Labrador hydropower to western Canada.
Building on MLI's substantial body of work on COVID-19, Brian Ferguson takes a critical look at the federal approach to the pandemic as we pass the first year of the crisis. And Tarun Katapally discusses the risks of failing to take advantage of big data in dealing with the pandemic.
In addition to these themes, this issue of Inside Policy addresses some of the most pressing public policy issues facing Canada's decision-makers, including:
The East Coast fisheries dispute;
How First Nations have dealt with COVID-19;
The state of academic freedom in Canada;
Why allies must work together to confront China; and
The prospects, one day, for an Israel-Iran peace accord.
We hope you enjoy the latest edition of Inside Policy.
To read the latest edition, click the button below.

***
For more information media are invited to contact:
Brett Byers
Communications and Digital Media Manager
613-482-8327 x105
brett.byers@macdonaldlaurier.ca