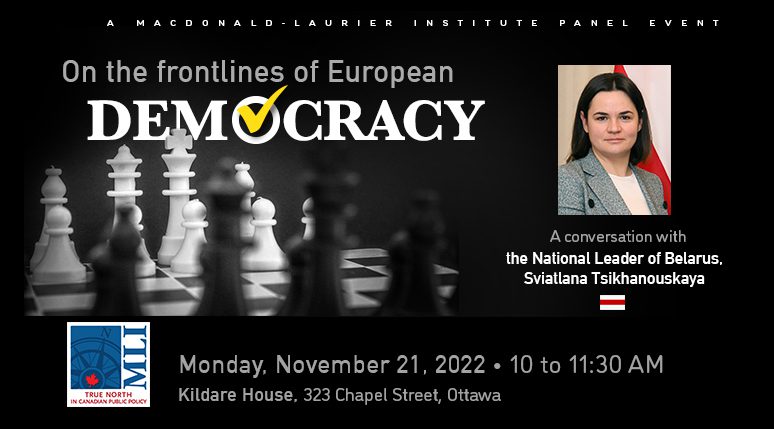 Not since the end of the Cold War has democracy in Europe been so imperilled by authoritarians. Following its corrupt and fraud-mired 2020 election, Belarus has slid further into repression. A mass protest movement of Belarusians sought to challenge the illegitimate election results, but the regime brought its brutality to bear to quash all democratic opposition. Now strongman President Alexander Lukashenko serves as one of Vladimir Putin's few close allies in his attempt to subjugate Ukraine.
Yet Belarusians have rallied around Sviatlana Tsikhanouskaya, the ex-presidential candidate and wife of jailed opposition leader Sergei Tsikhanousky. She now fights for Belarusian rights and the democratic aspirations of her people as the leader of Belarusian democratic forces and through her work toward facilitating a democratic transition in Belarus.
To discuss the invaluable role played by Europe's frontline champions of democracy, MLI is honoured to host a discussion with the National Leader of Belarus, Sviatlana Tsikhanouskaya. This conversation will be both an in-person event and live-streamed.
Event details:
When: Monday, November 21st from 10:00 am – 11:30 am ET
Doors open : 9:30 am ET
Where: Kildare House, 323 Chapel Street, Ottawa, ON, K1N 7Z2
Light food will be provided to guests.
Speakers:
Balkan Devlen, Senior Fellow, Macdonald-Laurier Institute (Welcoming remarks)
Hon. John McKay, Member of Parliament, House of Commons (Keynote remarks)
Paul Wells, Journalist and Author
Sviatlana Tsikhanouskaya, National Leader of Belarus
Register for this event below.