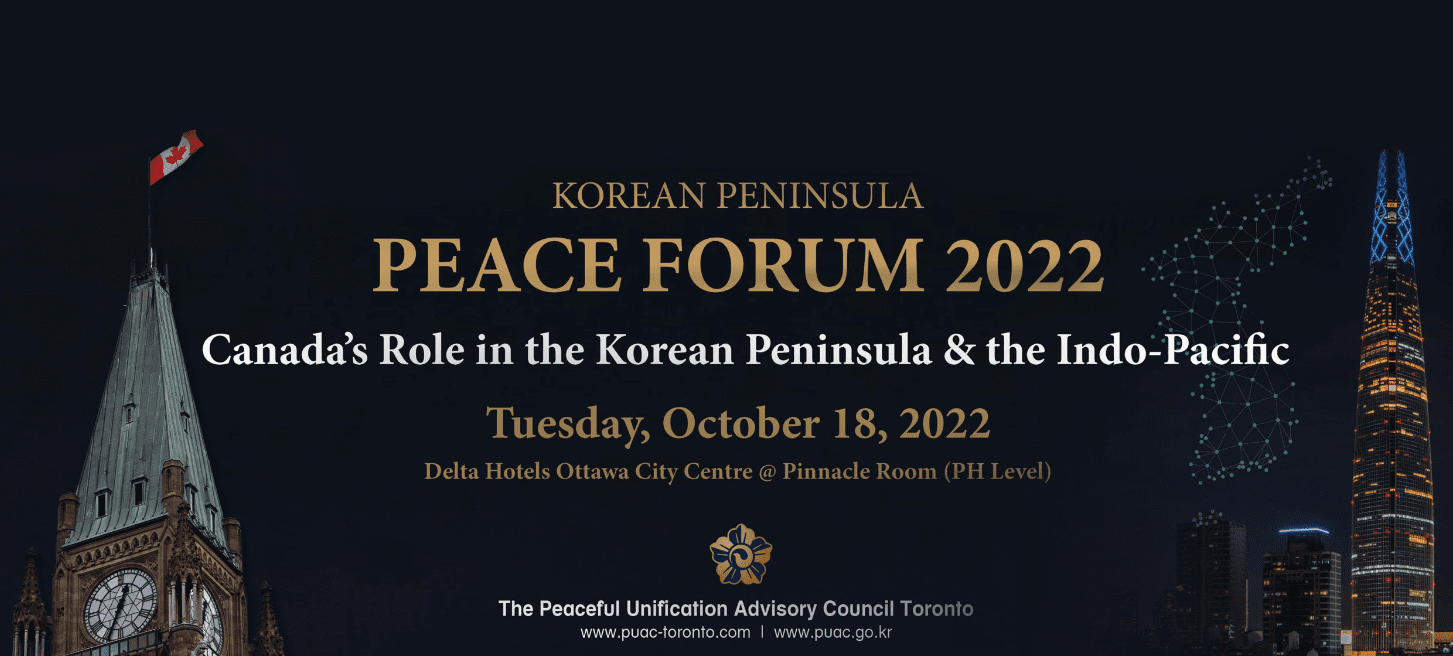 The Peaceful Unification Advisory Council (PUAC) Toronto (https://puac-toronto.com/) is hosting a forum to bring together influential Canadians in politics, diplomacy, foreign affairs, defence, business, academia and media to discuss the opportunities and challenges of Korea and Canada partnership in the Indo-Pacific and Canada's role in the Korean peninsula's peace process.
Canada's Role in the Korean Peninsula & the Indo-Pacific
Canada is currently working on the Indo-Pacific Strategy. The US and other major allies have released their strategies. Canada is expected to take a more active role in the Indo-Pacific region, working together with Korea and other like-minded Canadian allies and partners in the region. We have many questions, and this forum will try to find recommendations for the government of Canada on the Korean peninsula and the Indo-Pacific strategies.
What are the prospects and challenges facing Canada as we seek to strengthen bilateral relationships with South Korea and multilateral relationships in the Indo-Pacific?
How can Canada help make progress in a peace agreement between South and North Korea?
Purpose
To explore the strategies on the Korean peninsula and the Indo-Pacific
To inform Canadian public and policy makers on the importance of Canada's engagement in facilitating peace & stability in the Korean peninsula & the Indo-Pacific
To hear ideas and recommendations from the experts
To present recommendations to Canadian government policymakers
To strengthen the partnership between Korea and Canada in the Indo-Pacific
Program
Tuesday, October 18,2022 | 09:00 – 16:00 | In-person & On-line
09:00 Registration, Coffee, Light Breakfast & Networking
10:00 Opening Remarks – Head of PUAC & Ambassador of ROK
10:15 Keynote by Former Ambassador to the US and EU, Ahn Ho-Young
10:30 Forum Session One
12:00 Networking Buffet Lunch
13:00 Forum Session Two
14:30 Keynote by Hon. Melanie Joly, Minister of Foreign Affairs, Canada
14:45 Q&A
15:15 Adjourn & Networking
Partners
▪ Macdonald-Laurier Institute
▪ Canadian Global Affairs Institute
▪ Asia Pacific Foundation of Canada
Forum Website: https://puac-toronto.com/puac-peace-forum-2022/
Contact: Sonny Cho, Forum Chair | scho@globalpublic.com | 416-822-8936
Register for this event below. If you're affiliated with MLI, please contact events@macdonaldlaurier.ca before registering
Refund Policy
Contact the organizer to request a refund.
Eventbrite's fee is nonrefundable.